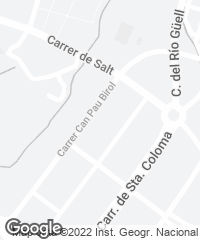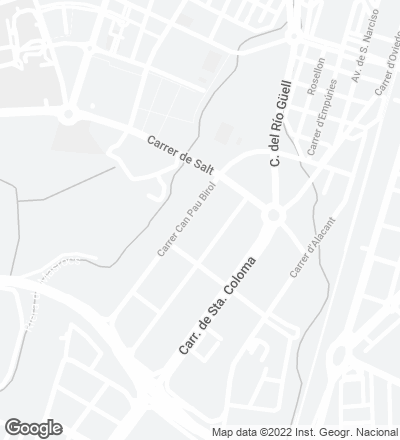 This refurbished building is located in the Mas Xirgu industrial complex, on the outskirts of Girona. The commission consisted in converting an industrial warehouse that was no longer in use into a funeral service building for the city. The original construction, an open-plan building, had just one floor and practically no natural light.
The large structural spans of the existing warehouse permitted accommodating the program required for this type of facility. Even so, it was necessary to build an intermediate slab, reinforcing the structure for the new use, so that the functional program could be distributed in two levels: the lower floor with the oratory, crematorium, lobby, and communal areas; and the upper level with the three wake rooms required, for more private use. These rooms are filled with light coming in through courtyards that pierce the roof, respecting the beam filling of the old structure.
Designing a funerary building demands considering the functionality of the accesses and of the different spaces, but it is also important to pay special attention to their quality, bearing in mind the specific circumstances of the users that visit them. A funeral building must be an intimate, safe, warm, and comfortable space. For this reason, the project involved a particularly complex challenge, because the starting point was a cold container located in an industrial complex and surrounded by warehouses and factories, introverted buildings of considerable dimensions.
The main strategy of the intervention was to build a new facade that, as skin and filter, could function as a buffer between the interior and the exterior. To this end, the project analyzes and explores the expressive capacity of the concrete block, a material that is economical, versatile, and easy to assemble. Two types of white concrete blocks are used: smooth and grooved. The use of this type of finish makes it possible to design a bearing facade with different planes, rhythms, textures, and densities, which vary depending on orientation, program, and the different views.
This geometric composition aims to achieve a continuous enclosure, with a greater sensitivity to sunlight and able to generate, throughout the day, rich plays of light and shade, both inside and outside the building, endowing it with a bold and abstract character.
Cliente Client
Áltima Serveis Funeraris
Arquitectos Architects
Plasencia Arquitectura
Consultores Consultants
Estudi M103 (estructura structure), JSS associats (instalaciones mechanical engineering), Estudi Tècnic de la Construcció (arquitecto técnico quantity surveyor)
Superficie Floor area
1.265m²
Presupuesto Budget
930.441€
Fotos Photos
Aitor Estévez