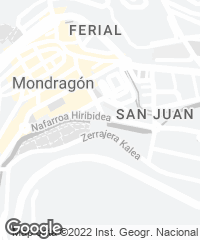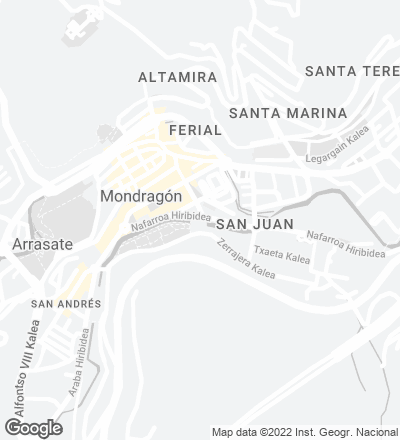 The industrial complex built in Arrasate Mondragón by Unión Cerrajera, the locksmithing company founded in 1906, consisted initially of three blocks of ground floor plus two levels. The first two blocks went up in 1931, and after 68 years standing they were demolished to make room for future urban plans. One of them was a locksmithing factory and the other was a storehouse for more elaborate works. The central property – the only surviving building – was completed in 1939 and served as entrance to the factory. Built on the Deba riverbed in 1939 and designed by the architect Luis Astiazarán (1898-1969), the entrance building was the most emblematic and distinctive. Also known as the 'clock building,' the Kulturola is one of the most significant elements of the industrial heritage of Arrasate, and one of the most representative examples of the industrial architecture of the Modern Movement in the Basque Country. Listed under the Monument category of the General Inventory of Basque Cultural Heritage as an Asset of Cultural Interest, the Kulturola has now been recovered for cultural uses.
The restoration enhances values of modern industrial architecture such as singularity and total value, also stressing the connection between the building, the landscape and the river, and highlighting its constructive singularity and typological character.
The passageway that crosses the building at ground level – former access to the complex – is incorporated into the urban space, at the same time providing a large entrance threshold to the building and offering an undercover area for open air activities. In the facades the composition of the former openings is restored, using minimal section steel carpentry and original glazing bars. The skylights, which were destroyed and then covered up, are restored on the roof, recuperating both the spatiality and overhead lighting of the upper floors. The old historic staircase is preserved and a new vertical core staircase is added and stained red – the company's corporate color – to evoke the cast iron of the initial activities. The concrete structure with deep beams on the ceilings is highlighted, leaving the installations visible to maintain the industrial atmosphere of the building, and ensuring that the interior compartments preserve the spatial neutrality of the original building.
The restoration represents the recovery of a stamp on the landscape, history, industry, and society of Arrasate and the Basque Country.
Obra Work
Edificio Kulturola, Mondragón (España) 
Kulturola Building, Mondragón (Spain).
Cliente Cliente
Ayuntamiento de Arrasate- Mondragón.
Arquitectos Architects
Jovino Martínez Sierra Arquitectos.
Contratista Contractor
Construcciones Moyua.
Presupuesto Budget
4.950.174 €.
Superficie Area
5.386 m².
Fotos Photos
Marcos Morilla.