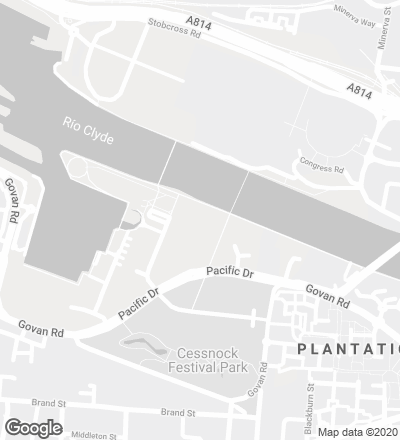 The new state of the art BBC Scotland headquarters at Pacific Quay, Glasgow, encompasses all aspects of television, radio, and internet, accommodating production facilities, digital studios, technical support, and office space. The design seeks to encourage creative interaction among the 1,000 occupants by connecting all the workspaces with a central rising atrium that acts as a place for meeting, working and circulating.
The building is located alongside the abandoned Govan docks on an exposed plot of land dominated by the expanse of the river Clyde and the mountains of the Scottish Highlands. Faced with this open landscape, the building had to find ways to establish its own sense of place and satisfy the demands of the BBC for a contained yet publicly accessible building.
The building is distinct from conventional offices; more industrial, loft-like in feel, it gives equal importance to collective work areas, individual workstations, and public spaces. Accordingly, the central toplit atrium is configured as a tiered sequence of steps, platforms, and terraces. Circulation and communication through the building and between office floors is promoted by this giant staircase, which not only offers informal meeting areas, but also encourages movement between spaces, giving powerful visual representation to the public aspect of the building.
In terms of the formal design of the structure, the most immediate problem posed by the project brief lay in the compositional relationship between technical elements such as studios (that had to be solid) and office space (that should be transparent to enjoy the surrounding views). In particular, the juxtaposition between the solidity and size of the principal television studio, itself four stories tall, and the adjoining office spaces was the most difficult formal issue raised by the programme. The response throughout was to integrate each and every one of the building's elements, avoiding a back-of-house atmosphere for technical areas, and the compartmentalisation of common spaces so that the building as a whole could absorb and reveal the diversity of its uses. As a result, the façade materials expose the programme's complexity from the inside by means of big opaque areas (the aforementioned technical zones), dotting an almost entirely transparent glazed façade to the outside, and without interrupting the strict rhythmical modulation that travels across the smooth surfaces of the building.
Cliente Client
BBC Property
Arquitectos Architects
David Chipperfield Architects; Keppie Design (ejecución executive architect)
Colaboradores Collaborators
Vesna Aksentijevic, Gabrielle Allam, Johannes Baumstark, Doreen Bernath, Kevin Carmody, David Chipperfield, Mario Cottone, Jesus Donaire, Martin Ebert, Martin Eglin, David Finlay, Robin Foster, Annabelle Fraser, Jochen Glemser, Jason Good, Andy Groarke, Manuel Gujber, Victoria Jessen-Pike, Ilona Klockenbusch, Merethe Kristensen, Kaori Ohsugi, Simon Pole, Billy Prendergast, Hau Ming Tse, Takayuki Nakajima, Oliver Ulmer, Jonathan Wong, Jennifer Singer, Toni Yli-Suvanto, Giuseppe Zampieri
Consultores Consultants
Jane Wernick Associates: James Packer, Jane Wernick; Faber Maunsell: Scobie Alvis, Jeremy Grant, David Irving (estructura structure); Arup: Stephen Barty, Graham Beadle, Nigel Clift, Darren Connolly, Graeme Gidney, Fred Robinson, Alan Rowell, Andrew Sedgwick, Paul Sloman, Martin Surridge, Tim Thornton (instalaciones services engineer); Arup: Richard Cowell, Ian Knowles, Ian Thompson, Gil Van-Buuren (acústica acoustic engineer); Jeremy Gardner Associates: Jeremy Gardner, Gordon Garrad, Nick Montgomery (protección contra incendios fire engineer); Gardiner & Theobald: John Meechan, Sandy Park, Roy Weller (aparejador quantity surveyor)
Fotos Photos
Christian Richters, Album/View/Peter Cook