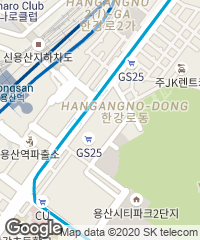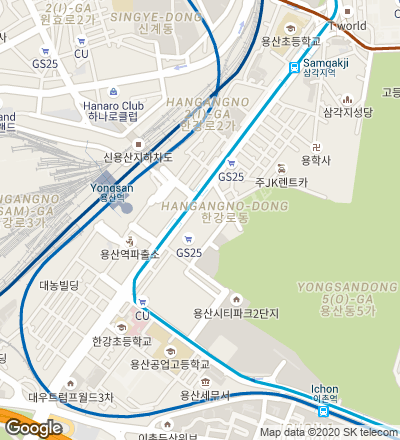 The new headquarters for Amorepacific, Korea's largest beauty company, is located in the center of Seoul, on a site which has been occupied by the firm since 1956. The site is situated next to a former US military zone that is being transformed into the spacious public Yongsan Park and a high-density business district. This large-scale project, representing the largest high-rise development in Korea, will substantially alter the urban fabric of the Yongsan district.
The new head office of Amorepacific inserts itself into this fabric with a form that is both abstract and gestural. Focusing on a single, clear volume, the proportions of the building have been carefully developed around a central courtyard to maximize the effectiveness of natural ventilation and daylight. Three large urban openings connect this central void with the exterior surroundings, providing dramatic views over the city as well as of the mountains in the distance. As 'hanging gardens' these openings give scale to the building and allow nature to extend from the adjacent park into all areas of the building.
Elevated above a public entrance platform, the building offers itself to the city by means of a spacious entrance hall. Over it, a huge atrium represents the communal center of the company workplace, with gardens providing recreational spaces for the users. A rich mixture of amenities – including a museum, an auditorium, a library, restaurants, and childcare facilities – ensures that the building is not only an efficient corporate headquarters, but also the public face of a vital enterprise that is very much part of the growing metropolis of Seoul. The design thus pursues the social, cultural, and professional aspirations of Amorepacific by combining workspaces with activities that the entire community has access to.
Over the glazed facade, a screen formed by a continuous brise-soleil improves the building's environmental performance by providing shading and reducing heat load. In addition, this second skin gives the construction a coherent and solid appearance, perceived as a unity despite its complexity, all the while also conveying a sense of openness and lightness, thanks to the slender metal rods placed along the perimeter and forming an ethereal surface. Metaphorically, the new building echoes the aspirations of a modern organization, mediating between local and global, private and public, collective and individual, formal and informal.
Obra Work
Amorepacific Headquarters
Cliente Client
Amorepacific Corporation, Seoul
Arquitectos Architects
David Chipperfield Architects Berlin;
David Chipperfield, Christoph Felger (director de diseño design lead), Harald Müller —socios partners—; H. Krause (director de proyecto project architect), R. Chandler, I. Dimitrov, K. Finke, P. Hillerkus, N. Kulemeyer, X. Liu, J. Lorbeer, P. von Matuschka, F. Rusch, L. Scherner, L. Schwind, J. Studer —concurso competition—; H. Krause (director de proyecto project architect), W. Baumeister, W. Belz, I. Dimitrov, F. Friebel, C. Goeke, C. Hammarström, M. Heskamp, F. Kahl, R. Kiewiet, N. Kulemeyer, A. Lawrence, H. Sun Lee, L. Peters, T. Pyschny, S. Ryu, N. Sawaya, J. Schenke, M. Stauth, C. Stöckert, N. Viveiros, R. Westphal —diseño conceptual y desarrollo schematic design, design development—; H. Krause, N. Kulemeyer, T. Pyschny (directores de proyecto project architects), I. Albano-Müller, W. Baumeister, W. Belz, C. Boehm, V. Braun, R. Burke, C. Busch, R. Carrasquer, S. Deckel, C. Decker, P. Eckert, R. Egan, C. Fischer, A. Franco Flores, F. Friebel, N. Gaar, R. Heine, A. Hengst, M. Heskamp, W. Hoffmann, F. Jödicke, K. Karig, A. Lawrence, H. Sun Lee, P. Maas, F. Michalsky, L. Mittay, S. Morar, C. Murphy, F. Müller-Hartburg, E. Neumann, M. Ortigão, N. Pabion, D. Passarinho, A. Pavlidis, M. Peralta, L. Peters, R. Piepoli, I. Priwitzer, M. Pudenz, T. Rothmann, S. Ryu, J. Saunders, N. Sawaya, D. Schaffrannek, G. Schulz, M. Schwarzer, L. Shen, V. Sijssens, C. Stahl, I. Tsironis, J. Van Den Abeele, G. Vitevski, M. Warrington, M. Werner, R. Westphal, M. Wilms, K. Ho Won —documentación y administración de la construcción construction documentation, construction administration—
Colaboradores Collaborators
HAEAHN Architecture (ejecución executive architect), KESSON (ejecución de interiores executive architect, interiors); Kunwon Engineering (supervisión de obra site supervision); Arup Deutschland & Arup Ltd.(diseño design engineers); L2M3 communication design (señalética signage); SeoAhn (paisajismo landscape), Hyundai Engineering & Construction (contratista general contractor)
Fotos Photos
Noshe, David Chipperfield Architects
Croquis Sketch
David Chipperfield