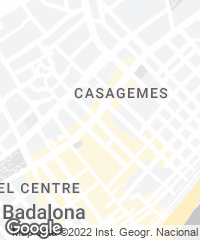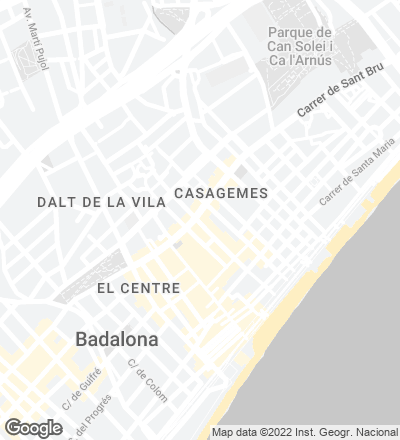 Located in Badalona, the Contemporary Culture Center of El Carmen, which borrows its name from the old maternity hospital that used to take up the plot, occupies the corner of Francesc Layret and Sant Francesc d'Assís streets, very close to the Town Hall. The latter street descends towards the sea, and narrows down upon crossing Francesc Layret Street. The new building adjusts to the streets' change in dimension but modifies the geometry of the place with a 45 degree corner where the access to the center is located, establishing a new transition between the broad and the narrow street. While on ground level the facade onto Layret Street maintains its original alignment, on Sant Francesc d'Assís this alignment is met gradually to create a larger space of access. The five-story height above street level has been increased to accommodate the whole program of the center. This change has been carried out in accordance with a special plan that also included the new geometry of each floor and the volume that their overlapping generates. 

Todas las plantas se compartimentan con paneles que forman ángulos rectos, que extienden la geometría del núcleo de comunicaciones, mientras que un muro cortina separa todas las dependencias del exterior.
The building is perceived as the stacking of a series of volumes that are free from the influence of the architecture of their surroundings and from the rectangular footprint of the site assigned. From the first floor these volumes cantilever and are set back to generate terraces. The upper floors are separated, partly, from the two adjacent buildings, and their side facades remain windowless but have the same cladding. A last sixth floor, where the climate control systems are located, recovers via a cantilever the fragment of the alignment lost on the lower floors along Sant Francesc d'Assís Street. Furthermore, the services and vertical communications core is attached to the party wall of the Layret Street building, benefitting from the light of a courtyard that runs along its entire vertical itinerary, which reaches the floor below grade, designed to harbor exhibitions and conferences.

Both the curtain wall and the parapets of the facade terraces, which receive direct sunlight during summer, are protected with brise-soleils made of white fixed aluminum louvers that tilt at different degrees. At night, these irregular and superimposed glass boxes, illuminated and covered with louvers, turn the building into an enigmatic lamp traced with light strips of different thicknesses. 
All the floors are compartmentalized with panels that form straight angles, hence extending the geometry of the communications core, while a curtain wall separates all the premises from the exterior. 
Cliente Client
Área Metropolitana de Barcelona
Arquitectos Architects
José Antonio Martínez Lapeña, Elías Torres Tur
Colaboradores Collaborators
Pau Badia i Roca, Alex Borràs Torralba, Borja José Gutiérrez Febles, Jordi Hernández de Gispert, Francesc Martínez Cazorla, Luis Valiente Bermejo, Marc Marí Mayans, Jose San Martín Eraso, Jennifer Vera
Consultores Consultants
Gerardo Rodríguez, STATIC (estructura structure); Consulting Oficina Técnica Lluís J. Duart (instalaciones mechanical services)
Contratista Contractor
Vías y Construcciones
Fotos Photos
Lourdes Jansana