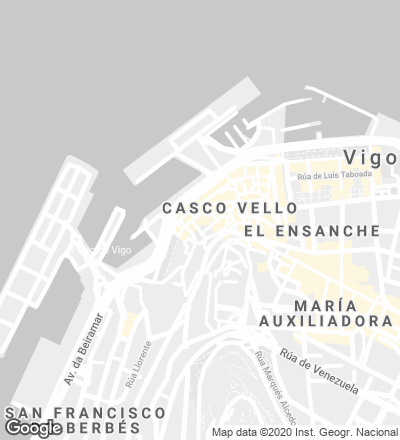 The new headquarters of the Property Registration Office is located in the historic center of the city and remodels a space previously occupied by four old domestic buildings. Following refurbishment, restructuring, and partial replacement strategies, the project seeks balance between the conceptual unity that public buildings require and the preservation of historic and environmental values. The project is organized around a cloister, resulting from the addition of the existing courtyards, which takes on a public and distinctive scale and gathers all the functions of the complex. One single drop in the terrain addresses the four different levels of the old ensemble, and this allows to maintain those walls and facades that are compatible with the new program. In this way, space is distributed more flexibly and opens up to several possibilities: except for the compact block that accommodates the archive and the services, the whole space is continuous.
Embedded in the historic center of Vigo, the project takes four existing buildings as starting point, reorganizing them around a central cloister, using modern techniques that are in tune with the earlier elements. 
To extend the public spaces of the city towards the interior of the building, the slabs and stone walls of the first two floors are recovered. Furthermore, the remains of fallen or altered walls are exposed, as a token of the historic evolution of these properties. There is one single access and it reveals the public scale of the work, presenting a double-height space that reveals the courtyard onto the street and recovers the traditional concept of atrium as a space of transition between the city and the building. The openings are not modified, but are given a different material character by closing them with glass and concealed frames, so that the powerful shadow of the thick wall can reflect the passage of time in the urban center and the change of use the whole complex has undergone.
Since it rests on the old walls, cleaned up and reinforced to take on the loads of the new use, they preserve their structural function and historic value. Hence the project is developed in such a way that each element fulfills the role for which it was designed, without having to propose a false superposed structure. The preserved facades are clad in some specific areas to generate funneled openings that maximize natural lighting. The courtyard is closed with a glass facade with an operable metallic frame and covered with mobile wood slats, which permits optimizing lighting and entilation in the offices and in the circulation areas.
Cliente Client
Regisvigo S.L.
Arquitectos Architects
Jesús Irisarri Castro, Guadalupe Piñera Manso
Colaboradores Collaborators
Antonio Reboreda (estructura structure); Quicler-López ingenieros (instalaciones mechanical engineering) Guadalupe Piñera Manso, Jesus Irisarri Castro (dirección de obra site supervision) Sancho Páramo Cerqueira (dirección de ejecución execution management) Antonio Carvallo Couñago (coordinación de seguridad y salud coordination of health and safety); Artelia Spain (project manager)
Contratista Contractor
Constructora San José; Maria Seoane (jefe de obra construction manager); Jesús Louzao (encargado de obra construction foreman)
Superficie construida Floor area
2.979 m²
Presupuesto Budget
3.000.000 euros
Fotos Photos
Héctor Santos-Díez, Tafyr