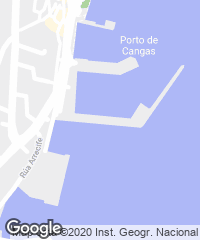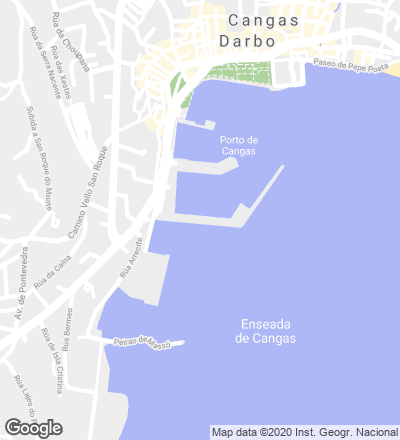 Built on one of the busiest fishing docks of the port of Cangas, on the banks of the Vigo estuary, in the northwest of Spain, this lightweight construction comprises a series of warehouses for the fishermen of this Galician town. Due to its proximity to the sea port, the marina and the yacht club facilities, the mooring cliff had become an extension of the urban space, an area of intense social activity and a privileged vantage point from which to enjoy different nautical events.
Facing a promenade built on the Cangas docks, the building is generated from three single modules that are arranged into groups, and which accommodate the warehouses used by fishermen and also the service areas. 
Aiming to combine leisure and port activities in the same space, the promenade has been built along the breakwater, dotted with buildings for different purposes, arranged in a fragmented manner. The transversal paths between the structures permit access to the areas where all the port, leisure and fishing activities take place. The solution has permitted minimizing the impact of the building on the landscape, avoiding the construction of a sort of screen that may encumber the views of the estuary from the urban center. Furthermore, with the purpose of strengthening the links with the place, the concrete has been mixed with the seashells extracted by the local canning industry.
The existing plinth supports a structure of tubular steel profiles. This structure holds a sheet enclosure covered with a metallic latticework that unifies the complex while maintaining visual permeability. 
The program is distributed in thirty-six 'sheds' starting from three modules of different size that accommodate the warehouses – grouped in series of three and four units –, with an annex service area to work outside without interrupting the the flow of dock activities. Thanks to a dry construction system, the pieces were assembled almost entirely in a workshop, so the construction process did not interfere with the regular port activities.
Built in galvanized steel, the sheds evoke an element traditionally used by fishermen – metal cages –, changing their scale to build a structure that opens up to the waterfront and that blends into the landscape of the fishing port. The existing concrete plinth supports a structure of tubular steel profiles on which a lightweight sheet enclosure rests. The next step is the assembly of metal latticeworks with patterns of different density that unify the complex, maintaining visual permeability and underscoring the unitary nature of the building. Thanks to the fragmented layout of the units and to the porous character of the enclosure, a structure that would initially increase the occupation ratio of the docks does not obstruct the views of the surrounding landscape.
The dry prefabrication system used allowed to build the thirty-six sheds for fishermen with pieces that were assembled in a workshop and then moved to the site, in this way the construction works did not alter the port activities. 
Cliente Client
Portos de Galicia
Arquitectos Architects
Jesús Irisarri Castro, Guadalupe Piñera Manso
Colaboradores Collaborators
Lidia Fernández, Javier Currás, Fátima Iglesias (arquitectos architects); Eva Fernández (jefe de obra commissioner's head of architecture); Juan Antonio Rodríguez (ingeniero engineer)
Constructor Constructor
C&C
Consultores Consultants
Cometal (estructura structural engineer); Elecisa, Polar Clima (instalaciones electrical and mechanical engineer); Multiser Somar (cerrajería locksmithery); Carpintería Estelar (revestimiento interior interior cladding); Vidrio Moss (vidrio glass)
Fotos Photos
Manuel González Vicente