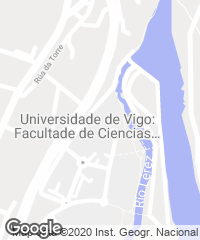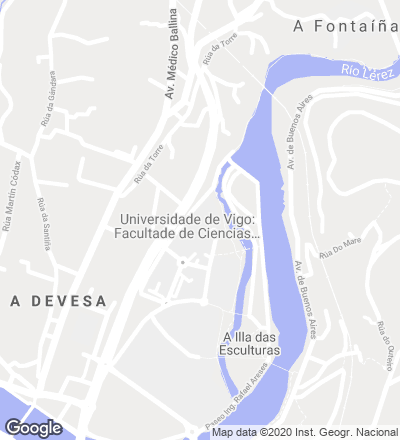 With an aera of 150,000 square meters,the A Xunqueira campus of the University of Vigo in Pontevedra is located on a slightly isolated site, flanked by the river and the highway. This peculiar feature served as starting point for the redevelopment plan by the same architects – winners of the competition held in 2002 –, which proposed recovering the river as structuring element of the city and turning the campus into a community space for culture and leisure, able to serve as an area for gathering and interaction, sheltered from the city and open to a riverside area recovered as a so-defined 'ecozone'.
Formed by independent modules for construction in different phases, the building is included within a scheme that aims to transform the campus into a gathering point, recovering the river as the backbone of the complex.
En este entorno, la Facultad de Ciencias de la Educación se concibe como un volumen configurado en bandas de diferentes alturas —su diseño está condicionado por la necesidad de la construcción en fases—, que acogen las distintas partes del programa, separadas por usos y por necesidades espaciales, con galerías de estancia y reparto orientadas al sur y al área central del campus. El edificio busca así enlazarse y abrirse a la naturaleza del sitio, y responde a las complejidades del proyecto cualificando los patios, aberturas, orientaciones y ubicaciones de los usos. Los módulos son independientes, pero están conectados entre sí; de esta manera, los diferentes ámbitos de la vida universitaria están vinculados, lo que contribuye a enriquecer la vida social dentro de la facultad. En este sentido, la integración del módulo deportivo dentro de la zona docente constituye una de las decisiones más importantes del proyecto. Los espacios intersticiales que se generan entre los diferentes cuerpos se convierten en zonas de uso libre para los estudiantes. Hacia el sur, los aularios presentan galerías acristaladas protegidas del sol de verano, mientras que los departamentos muestran fachadas translúcidas, que se hacen transparentes en determinados puntos abriéndose al área central. Los testeros de los edificios y las caras orientadas al norte tienen fachadas ventiladas.
The urban plan also foresees the construction of a seven-story transparent piece – which will accommodate a support center for the transfer of research results, called CATRI. Located in the southwest end of the faculty building, it will preside the new covered square and become the architectural axis and reference point of the campus. This square, designed to house a variety of events and which will serve as a connection point between all the buildings, emerges after folding the outer skin of the new volume.
Cliente Client
Universidad de Vigo
Arquitectos Architects
Jesús Irisarri, Guadalupe Piñera
Colaboradores Collaborators
Emilio Rodríguez, Udo Thoenissen, Fátima Iglesias, Jesús Vázquez, Maruxa Touceda (concurso competition); Lourdes Rey, Andrés Touceda, Fátima Iglesias, Udo Thoenissen, Cristina Vázquez, Javier Curras, María González Ferro, Sandra Formigo, Javier Couto (proyecto project); Javier Curras, Cristina Vázquez (obra construction); Sancho Páramo, Sandra Valverde (aparejadores quantity surveyor)
Consultores Consultants
Antonio Reboreda (estructuras structures); Ana María Vigo, Manuel López, Exinor (instalaciones mechanical engineering)
Contratista Contractor
O.H.L.
Fotos Photos
Manuel G. Vicente