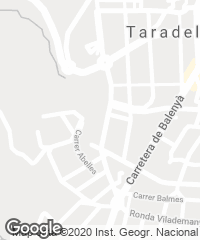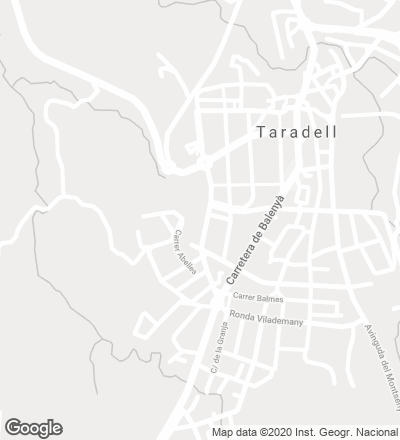 In a sports complex in Taradell, a small town in the province of Barcelona, the site of this indoor swimming pool and the precipitous terrain determine its configuration, articulated in four parts: the outdoor tracks, the wall, the services building, and the swimming pool pavilion. The program is distributed on a single level, over a space of more than 2,600 square meters, and contains a swimming pool that is 20 meters long with six lanes; a smaller pool, for guided water activities; a sauna; a steam bath; a gymnasium; an indoor cycling room; and a large multipurpose room.
Located in the town of Taradell (in Barcelona), at the foot of the Montseny Massif and surrounded by forests of pine and oak trees, the project addresses the topography of the site, which determines the building's configuration.
Stretching out from the street, as if it were a fence, a small wall marks the access to the complex through a ramp and conceals, below, an elongated tray that houses the dressing rooms, bathrooms, storage, administration areas, and two small rooms for communal activities, aside from the project systems. 
This longitudinal element is transformed, when it reaches the space occupied by the fields, into a large viewing deck from which to follow all the sports activities. The vertical elements of the enclosure filter these views from the exterior, but that is not their only role, because they also function as load-bearing structure and protect the swimming pool from sunlight. This rhythmic arrangement of the columns favors permeability in the swimming area with regards to the exterior space – a pine tree grove and wooded spaces –, which never disappears entirely: the surface of the water reflects the environment, transfers it to the interior spaces and thereby moderates the bold presence of the facade. The grid structure of the roof, for its part, rests on a line of low-rise pillars placed on the wall, which follow the same modulation used in the whole building and that create a sequence of skylights to illuminate the pool surface.
The industrial appearance of the enclosure, built with prefabricated materials – metallic profiles and glass sheets, custom-made –, contrasts with the more solid appearance of the materials in the swimming pool areas and in the secondary zones of the pavilion, finished with reinforced concrete and timber cladding. The lowered ceiling containing the lights and the electrical installations, as well as the interior partitions, are built with plastic materials, also prefabricated, which accentuate the bold formal expression of the work.
From the street, as if it were a fence, a wall becomes a viewing deck towards the lanes, filtered by the vertical elements, while at the same time acting as a load-bearing structure and as sun protection for the pool.
The rhythmic position of the pillars stresses the contact with the exterior; with the same modulation, the line of low pillars on the wall on which the  roof rests generates skylights to illuminate  the swimming pool. 
Cliente Client
Ajuntament de Taradell
Arquitectos Architects
RCR Arquitectes: Rafael Aranda, Carme Pigem, Ramón Vilalta
Colaboradores Collaborators
RCR: M. Tàpies, A. Schmid (proyecto project); G. Puigvert, H. Payà, M. Ortega (dirección de obra site supervision); D. Breathnach, C. Wittenbeck (maqueta model); G. Szücs, C. Kuczynski, C. Wittenbeck, A. Schmid, D. Leikina, I. García, H. Payà (visualización visualization)
Consultores Consultants
M. Sellés (aparejador quantity surveyor); Blázquez-Guanter (estructura structure); Grau-Del Pozo, Aribau70 (instalaciones mechanical engineering)
Contratista Contractor
Brues i Fernández Construcciones (1ª fase), Acertis Obres i Serveis SAU (2ª fase), Construccions Ferrer SA i Cimelsa SL (3ª fase)
Superficie Area
2.637 m²
Presupuesto Budget
3.060.114 €
Fotos Photos
Simón García