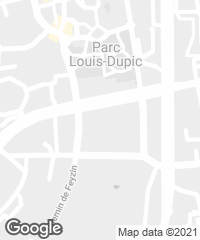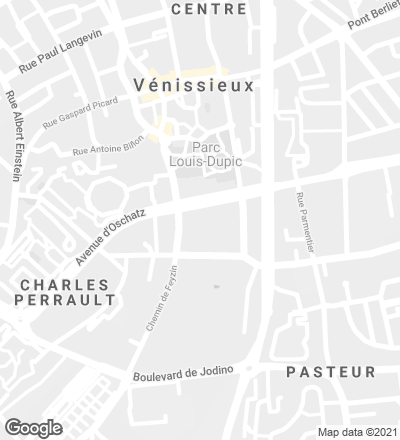 The Media Library is located in the small town of Vénissieux, on the outskirts of Lyon. This is a large multi-purpose shelter, opening onto the town, opening onto the world. It is a place for learning about cultures, for a blending of sensibilities and a mixing of generations among its users.
The purpose was to build a large glass box. Inside it, all the functions are brought together on the same level and girdled by a peristyle gallery. Taking a turn via this gallery is an enjoyable and instructive exercise: with no floors or hierarchy to speak of, the ease of getting around makes the architecture especially familiar.
The economy of the scheme resides in its simplicity; the building is made up of a single ground floor for the Media Library and a small building for the services. At the heart of this assemblage, we find the entrance hall in the form of an urban passageway between the square (to the west) and the meadow (to the east). From this space we can get to the offices located in the small building placed on the roof. This roof is pierced by different overhead openings, which bring daylight to the center of the building.
The mobility and flexibility of the various spaces lends them a contemporary dimension that is linked to the movement of people and cultures. Be they fixed, mobile, or fluttering like huge curtains, the partitioning elements are colored and made of a great variety of materials. The objective was to create a lively and vibrant location in which 'outside' and 'inside' do not function by excluding each other, but rather by interacting fluently.
The entire construction is compact and treated with different 'rough' materials: bare concrete, cement floors, galvanized steel structure, frosted and clear glass. Energy-saving results from the thickness of the building, which gives it excellent inertia and allows for thermal exchange between interdependent premises. This is also obtained through the double-skin enclosure produced by the gallery, which isolates the workings from the external atmosphere by acting as a thermal and sound buffer. Its facades are composed of narrow glass cases into which sheets of perforated metal are slipped. These fragments of sheet metal, slightly set back in places, play with the light and the reflections of the surrounding landscape. From the exterior, the library seems turned inward, whereas on the inside, it is flooded with light and open to its neighboring environment.
Cliente Client
Ayuntamiento de Vénissieux
Arquitectos Architects
Dominique Perrault Architecture
Colaboradores Collaborators
Guy Morisseau (ingeniería arquitectónica, architectural engineering), Guilhem Menanteau (seguimiento de obra site supervision), Anne-Marie Depuyt, Jérôme Thibault, Antoine Weygand, Eve Deprez
Consultores Consultants
Gaëlle Lauriot-Prévost (mobiliario y señalética furnishing and signage); Fabrice Bougon (mobiliario y economista furnishing and economist); Jean-Paul Roux-Fouillet, Bureau Van Dijk (informática y multimedia information technology); B.E.R.I.M. (ingeniería engineering); Apave (control técnico technical control)
Fotos Photos
Hisao Suzuki, Georges Fessy