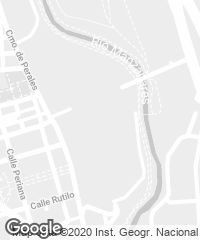 As with the Velodrome and Olympic Pool in Berlin, the Madrid Olympic Tennis Center aims to strengthen the Spanish capital's candidacy for the Olympic Games. With a plot area of 16,5 hectares, the 100,000-square meter project includes three indoor courts for 12,000, 5,000 and 3,000 spectators, sixteen outdoor courts, five courts with a covered area for 350 spectators each, six training courts, an indoor swimming pool, headquarters for the Spanish Tennis Federation, a tennis school, clubhouse, press center, stadium boxes and other private areas and restaurants.
The Olympic Tennis Center, also known as the 'Magic Box', goes up on the banks of the Manzanares River, in a space tucked between large infrastructures that this sports facility wishes to revitalize. 
The urban project recovers a residual area located between large peripheral infrastructures (the M-30 and M-40 beltways and the railway) and metropolitan ones (a sewage treatment plant and a power station) creating a public space that is open during the day and at night. To achieve this, the project includes and enhances the existing fluvial landscape, recovering the river banks with local vegetation.
The built areas are organized around an artificial lake, over which volumes of varying sizes are scattered like islands or fragments of nature beckoning strollers. A system of footbridges opens numerous paths through these volumes, offering spectacular new perspectives. Through this landscaping mechanism the project establishes the superposition of two specific worlds: at level with the lake a reserved seating area (for players, VIP?visitors, journalists); on the water, the general public in a space that favors interaction, circulation and connection with the city.
The three tennis arenas, placed inside this 'magic box', are adapted to the different uses of the complex. Their roofs are equipped with a double system of mobile panels mounted on hydraulic jacks for rotation and displacement, thus transforming the closed interior space into an open outdoor one. These movements on the scale of the immense structure throw a giant living shadow onto the landscape. The main building gives the impression of turning round to look back at its surroundings. At the same time, the open roofs, of metal finish, act as a mirror that invites the exterior inside, and vice versa.
Access to the premises is through a large corridor that crosses the full depth of the building: an open space, surrounded by a veil of metal mesh, which connects the surrounding neighborhoods with  the new river park. 
The complex is protected by a mutating and unitary skin that changes with light; a protecting metal mesh gown that hangs from the upper slab of this large volume, and that at night acts as a translucent veil, filtering the views of the interior.

The roof of the main court can rotate a maximum of twelve degrees and  then move from this position. The other two smaller ones reach up to twenty-five degrees, but must remain horizontal when they slide. 
Cliente Client
Madrid Espacios y Congresos. Ayuntamiento de Madrid
Arquitectos Architects
Dominique Perrault Architecture
Colaboradores Collaborators
Gaëlle Lauriot-Prévost (dirección artística artistic direction); Juan Fernández Andrino (arquitecto de proyecto project architect); Ainoa Prats, Dolores Ruiz, Luis Alves da Silva, Stéphanie Vazao Branco, Joaquín Mosquera, Daniel Marín (dirección de obra construction site supervision); Jorge Álvarez-Builla, Pablo Chamizo, Frédéric Chartier, Gilles Delalex, Claudia Dieling, Stefan Felber, Sergio García-Gasco, Verónica Gilotaux, Stefan Goeddertz, Fride Hallberg, Florian Hartmann, Daniel Keppel, Cyril Lancelin, Taciana Laredo, Shigeki Maeda, Mark Marten, Beatriz Martínez, Yves Moreau, Sergi Palomares, Victor Pujol, Christina Ried, Moisés Royo Márquez, Jérôme Santel, Marie-Pierre Vandeputte, Christiane Werling
Consultores Consultants
Perrault Projets (ingeniería arquitectónica architectural engineering); TYPSA (estructuras e instalaciones structural and mechanical engineering); Marion Consulting (fachadas facade); LKS Studio (gestión de proyecto project manager); Jean-Paul Lamoureux (acústica acoustics engineering); FCC Construcción: Luis Viñuelas, José Martínez Salcedo (proyecto constructivo de cubierta roof construction project)
Contratista Contractor
FCC Construcción; ULMA Hormigón Polímero (canales de drenaje drainage canals); Lanik (estructuras espaciales spatial structures)
Fotos Photos
© Georges Fessy / DPA / ADAGP, Miguel de Guzmán, Roland Halbe