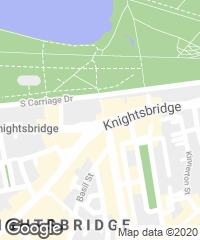 Situado frente a Hyde Park, el parque londinense por excelencia, y construido sobre el solar antes ocupado por un edificio de oficinas de la década de 1950, el complejo residencial One Hyde Park: The Residences at Mandarin Oriental consta de 86 apartamentos y dúplex, distribuidos en cuatros bloques semejantes que difieren en sus alturas (10, 12, 14 y 12 plantas respectivamente) para acomodarse a la silueta de las edificaciones colindantes y dar, de este modo, continuidad al perfil urbano.
Los 34.340 metros cuadrados destinados a usos residenciales y los 836 a locales comerciales de que consta el programa, se organizan según un esquema orientado a primar la iluminación natural y las vistas, sin renunciar a la privacidad propia de un edificio residencial. Las cuatro torres o pabellones adoptan así una disposición sencilla y legible, organizándose cada uno de ellos en dos alas simétricas respecto de un eje transversal en el que se sitúan cinco núcleos de comunicación completamente acristalados, dos de los cuales son de servicio.
Los bloques expresan al exterior el sistema estructural con el que están construidos: una retícula formada por pilares y vigas de hormigón pretensado enmarca las viviendas, agrupándolas cada dos plantas y dando lugar así a un orden ciclópeo que es a la vez la base del replanteo de un revestimiento de grandes lamas verticales de cobre prepatinado, cuya permeabilidad es variable según las orientaciones.
El cuidado de la iluminación natural y la disposición pasante de las crujías resuenan con el ambicioso conjunto de estrategias bioclimáticas aplicadas en el proyecto. Así, mientras que las lamas de cobre, accionadas automáticamente, reducen las ganancias solares durante el verano y las incrementan durante el invierno, las carpinterías de las viviendas son practicables con el fin de generar corrientes de ventilación natural, aspectos que se complementan con un ambicioso sistema de climatización por bomba de calor que utiliza como sumidero térmico el nivel freático existente bajo el edificio, a 150 metros de profundidad.
Obra
One Hyde Park: The Residences at Mandarin Oriental, Londres.
Cliente
Project Grande (Guernsey)
Arquitectos
Rogers Stirk Harbour + Partners.
Consultores
Ove Arup & Partners (estructuras); Cundall (instalaciones); Gardiner & Theobald (presupuesto); Candy & Candy (desarrollo y diseño interior); Exova Warrington Fire (contra incendios); Gillespies (paisajismo); BFLS (arquitectura de interiores); James Turrell (iluminación exterior); GVA Second London Wall Project Management (gestión de proyecto); DP9 (planificación).
Contratista
Laing O'Rourke
Fotos
John MacLean / Rogers Stirk Harbour + Partners, Paul Raftery.