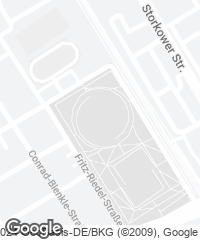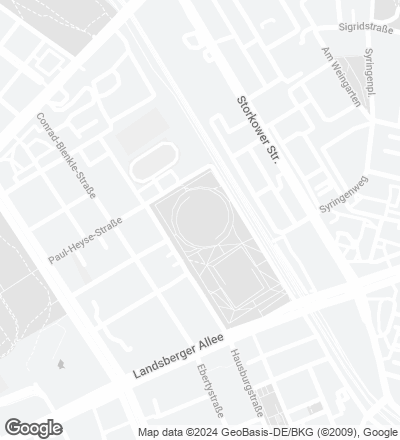 In 1992, the city of Berlin, still in the throes of the reunification, set up an international public competition for the design of the Olympic Velodrome and Swimming Pool. The city ended up losing the games to Sydney, but the project was green-lighted anyway. The velodrome and the swimming pool create a new urban crystallization point, a place that connects quarters marked by the urban development linked to the rapid industrial expansion after 1871 and the postwar housing estates. This is one of the most important entrances to Berlin's inner-city as seen from a historical and spatial point of view.
The urban concept behind this project is to create a green space on a handsome scale (200m x 500m), and to implant in this green space new buildings. In order to resolve the conjunction of two systems, the two buildings vanished from sight. Two autonomous objects, simple in composition, which foster, between them, a relationship of pure proximity. This large-scale verdure chain, linking the Volkspark Friedrichshain, the Volkspark Prenzlauer Berg and the Sportforum Hohenschönhausen, is a poetical answer to the surroundings which, even today, are marked by desolation. Relating to further urban development measures to be carried out beyond the subway line and Landsberger Allee, this special area will emphasize the particular 'gateway' situation in the east of Berlin. This minimised any environmental impact of the buildings on their surroundings.
The challenge was finding a definition for this park that would be adequate to the neighborhood and, at the same time, different from the existing green spaces, without forgetting its natural presence at the heart of the area. The idea has been to create an orchard. A little over 400 apple trees have been planted, and they must bear the traces of their past, so that we get the feeling that this orchard has been here for a certain time. When you approach on foot through this orchard you discover, set into the ground and sticking out at a height of about a meter, two tables, one round and the other rectangular, covered with a wire gauze. These two metal surfaces shimmer in the sunlight and appear to be stretches of water more than buildings, rather like lakes at the center of the orchard. In contrast to the imposing stadium in western Berlin for the 1936 Olympics, to weave open space into the urban fabric and to have this orchard makes it all more democratic, more human. The architecture is antiauthoritarian.
Cliente Client
Ciudad de Berlín, representada por OSB Sportstättenbauten GmbH?City of Berlin, represented by OSB Sportstättenbauten GmbH
Arquitectos Architects
Dominique Perrault Architecture (autor del proyecto project author), APP (Architects Perrault & Partners), Rolf Reichert; RPM Architekten (Reichert, Pranschke, Maluche), SSP (Schmidt, Schicketanz & Partner) (arquitectos asociados associate architects)
Colaboradores Collaborators
Gaëlle Lauriot-Prévost (coordinación artística artistic manager); Wolfgang Keuthage, Hella Rolfes (coordinación de proyecto project manager); Thomas Barra, Geoffroy Belmont, Rainer Centmayer, Olivier Dersch, Peter Edward, Alejandro Epstein, Richard Fuchs, Frank Görge, Bettina Grosthersmann, Evelyn Hendreich, Britta Hohmann, Victoria Koppenwallner, Andy Lockyer, Thierry Louvieaux, Heinz Nau, Monika Pfretschner, Ute Reh, Birgit Reisinger, Carola Schleif, Katrin Schmitt, Achim Schneider, Kurt Schuessler, Karin Schumann, Roland Vastra, Konstanze Neuerburg
Consultores Consultants
Ove Arup & Partners (ingeniería engineering); Landschaft Planen & Bauen (paisajismo landscape); PROMOS Projektmanagement Olympiasportstätten (gestión de proyecto project management)
Fotos Photos
Georges Fessy