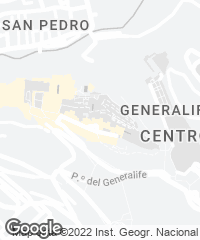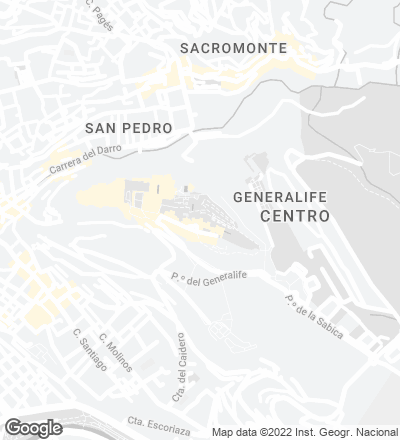 The christian conquest of the Alhambra in 1492 led to the transformation of some of its buildings into private houses. In the case of the Baño de la Mezquita (Bath of the Mosque), the Islamic construction was radically converted into a courtyard house with a garden located on archaeological remains. Between 1883 and 1934, the Barrios family settled in this place that became a meeting point for artists, poets, and musicians such as Sargent, Lorca, and Falla, and was recognized as the cultural hub within the city and the Alhambra before the reconstruction of the Islamic Bath by Leopoldo Torres Balbás in the early 20th century, within a process of historical restitution of the monument.
In this space, the intervention recovers an existing building in the Bath of the Mosque, next to an archaeological garden, through a series of actions that highlight certain events in the life of this place and their relationship with the architecture. The rehabilitation is based on the diachronic interpretation of the history of this site and its transformations through the value of the architectural pre-existences, the domestic objects and their artistic and interpretative dimension, prolonging the memory of the place into the present. The music of artist Ángel Barrios, his instruments – piano and guitar –, photographs, and family objects arranged next to the medieval wall of the Bath create a setting of varied elements that evoke the history of this space. The project incorporates an archaeological garden with a pool from an old Islamic palace that is recovered for public visits and musical soirées, in continuity with the gardens of El Partal.
The intervention respects the old structure of this heritage complex, and begins with an itinerary that relates the spaces of the Bath, the remains of the old 13th century wall and the view of the archaeological garden in this sequential order, making visible the three most significant elements of the place. The recovery of an old window concealed in an interior wall and the new large opening onto the garden generate a sequence of chained perspectives of the landscape. This large window-viewpoint opens up over the brick wall of the old building, closing the apertures from other periods, which remain as a testimony of prior alterations.
The window and a carpet with the drawing of an Islamic Bath, together with the musician's piano on it, extend the presence of the garden and the pool into the rooms...[+]
Cliente Client
Patronato de la Alhambra y Generalife (Junta de Andalucía)
Arquitecto Architect
Juan Domingo Santos; Carmen Moreno Álvarez (arquitecta colaboradora en proyecto y dirección de obra collaborating architect in project and construction management)
Colaboradores Collaborators
Arquitectos architects: Juan Moreno Romero (proyecto y dirección de obra project and construction management), Loreto Corisco González (proyecto museográfico museographic project), Alejandro Infantes Pérez y Ana I. Rodríguez Aguilera (desarrollo gráfico y maquetas graphic development and models). Patricio Bautista Carrascosa/Ábaco Ingenieros (ingeniero industrial industrial engineer)
Contratista Contractor
Bados Navarro (constructora contractor); Intervento (montaje museográfico museographic installation); La Alpujarreña (alfombras carpets); Viabizzuno (iluminación lighting); Transversal (audiovisual audiovisual)
Superficie construida Floor area
86m²
Presupuesto Budget
99.200€ (obra construction); 44.417€ (museografía museography)
Fotos Photos
Fernando Alda, Clara Torres González (maquetas models)