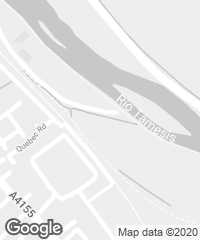 The very earliest sketches for the museum at Henley-on-Thames were inspired by local river boathouses and the traditional wooden barns of Oxfordshire – a simple and clear architectural idea that could easily be understood in context to its immediate neighbours. Looking at the completed building today, it is a carefully crafted manifestation of these first sketches, with long, parallel, oak-clad forms and steeply pitched lead-coated roofs. It is clearly a modern building, but one that resonates at the same time with a vernacular architectural past.
Sitting in water meadows on the south bank of the Thames, close to Henley's town centre, the museum houses a significant collection of rowing boats, cataloguing the history of the sport, the River Thames, and the town of Henley. Split between two different parts but linked by a glass and concrete footbridge, the building has indeed two separate levels. All the public parts of the program are located in the first level, like the ticket office, the cafeteria and the museum shop. This floor, elevated off the ground because of the periodic flooding of the river, is characterized by the openness and transparency of its spaces, which are extended in one of the sides of the main volume in order to create a large open terrace.
In clear contrast with the ground floor, the top level shows a much more hermetic design. Long and narrow skylines are in charge of illuminating the interior of the generous gallery spaces where the permanent and temporary exhibitions are displayed. These spaces, heavily marked by the pitched roof ceiling that gives its unmistakable shape to the building, have their own connections with the inferior level, allowing for an easy transportation and setting of the numerous boats and canoes, of all different shapes and sizes, which are placed inside.
The choice of materials reinforces this contrast between the upper and the lower level, creating the illusion that the solid volumes on the top rest on top of a transparent and immaterial base. The whole of these upper spaces is clad with untreated green oak timber – a wood that hardens and effectively weathers with age – so as to further align the building with a local vernacular. In this way, by carefully negotiating the conservative aesthetic sensibilities of rural England, the River and Rowing Museum merges figure and abstraction, appearing behind its screen of poplars to reveal a powerful synthesis of convention and invention.
Cliente Client
River & Rowing Foundation
Arquitectos Architects
David Chipperfield Architects
Colaboradores Collaborators
Renato Benedetti, Peter Crompton, Rebecca Elliot, Spencer Fung, Alec Gillies, Victoria Jessen-Pike, Harvey Langston-Jones, Genevieve Lilley, Andrew Llowarch, Rik Nys, John Onken, Peter Andreas Sattrup, Silvana Schulze, Maurice Shapiro, Mechthild Stuhlmacher, Simon Timms
Consultores Consultants
Whitelaw Turkington: Paul Barrett, Lindsay Whitelaw (pasajismo landscape architect); Whitbybird: Mark Philip, Ian Scott (instalaciones services engineer); Davis Langdon Everest: Stephen Bugg, Alan Davis, Nigel New (aparejadores quantity surveyor)
Contratista Contractor
Norwest Holst Construction Limited: Phil Bean, Robert Drury, Clive Percival, Mike Robeson, Terry Wood
Fotos Photos
Arcaid/Richard Bryant, Margherita Spiluttini, Hisao Suzuki