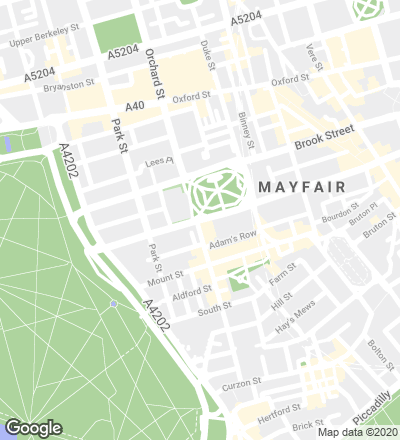 The Embassy of the United States in London was located in the heart of the Mayfair neighborhood, but following the relocation of the embassy to Nine Elms, David Chipperfield Architects was asked to convert the listed building – Eero Saarinen's only executed work in Great Britain – into a world-class hotel.
The main objective of the project is to reconnect the building to its urban context. Central to this task is the removal of the architectural barriers formerly required for its diplomatic function, such as the perimetral boundary wall, thereby making room to open shops and restaurants at street level.
The intervention respects history while addressing an extensive and heterogeneous program. The first floor is established as the hotel's most representative space, and thus inner partitions will be removed, allowing an uninterrupted view of the grand spaces characterized by the structural diagrid of the slab designed by Saarinen. The hotel is organized around a central atrium that reaches the top floor, crowned by an additional construction that continues the architectural language used below. Echoing the materials of the original building, the new elements are faced with Portland stone and golden anodized aluminum.
Obra Work
30 Grosvenor Square
Cliente Client
Qatari Diar
Arquitectos Architects
David Chipperfield Architects London;
David Chipperfield, Louise Dier, Billy Prendergast (directores directors), Benito Blanco, Alasdair Graham (directores project directors); Ryan Butterfield (director de proyecto project architect); Antonio Acocella, Ricardo Alvarez, Pau Bajet, Gonçalo Baptista, Gerriet Behrens, Nick Beissengroll, Thomas Castle, Roy Coupland, Florian Dirschedl, Elena Dueñas, Clemens Gerritzen, Jochen Glemser, Christopher Harvey, Julia Loughnane, Radu-Remus Macovei, Joseph Marchbank, Ruth Mellor, Tram Huong Ngo, Matthias Emanuele Odazzi, Ricardo Ploemen, Tobias Rabold, José Ramón Sierra, Cecilia Sjöholm, Luke Vouckelatou, Aleksandra Waluda, Sascha Peter Wurm, Richard Youel (equipo project team)
Colaboradores Collaborators
Turley Associates Ltd. (patrimonio heritage consultant); Publica Associates Ltd. (consultor del ámbito público public realm consultant); Building Design Partnership Ltd. (paisajismo?landscape consultant); AKT II Ltd. (estructura y fachada structural and facade engineer); Hilson Moran Partnership Ltd. (instalaciones MEP); Gerald Eve LLP (planeamiento planning consultant); Gardiner & Theobald LLP (aparejador quantity surveyor); Reardon Smith Architects Ltd. (hotel hotel specialist); Buro Four Holdings Ltd. (gestión de proyecto project management); Twin and Earth Ltd. (sostenibilidad sustainability consultant)
Imágenes Images
Richard Davies