Museum in an 18th Mining Settlement, Grand-Hornu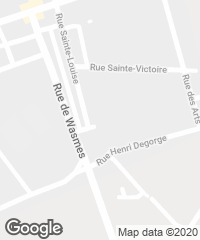 The mining complex of Grand-Hornu, in the Belgian region of Wallonia, forms part of that vast geography of coalmining the extends from the German basins of the Emscher and the Ruhr to Lille and Tourcoing in France. Its origin dates back to 1783 and it maintained its activity up to the middle of the 20th century. On a landscape shaped by the mining works, the settlement – whose most significant area was designed by Pierre Cardona and Bruno Renard with the neoclassical grammar of Ledoux – is arranged around a large oval courtyard encircled by brick buildings, and because of its size it may be considered as an example of industrial urbanism.
Doomed to be demolished after production stopped, the Grand Hornu survived thanks (in part) to the fact that it was purchased at the beginning of the 1970s by an architect who kept the complex – that for two decades housed from offices to varied cultural activities, and a mining museum that was very popular in the eighties – open to neighbors and visitors. Of public property from the beginning of the nineties, the first phase of its transformation into the Contemporary Art Museum of French-speaking Belgium has now been completed. The institution has been designed to be at once a space for the collection and exhibition of art, as well as education. The architectural project has approached the original buildings as an essential part of this landscape, striving not to generate a museum-object but rather a social and cultural attraction that may have the same relevance at a territorial scale that it once had as a production center.
Proportion, light and scale are the three basic elements that the project relies on to start a dialogue between the original construction and the new architecture, which gathers technical areas, galleries for exhibitions and audiovisual presentations, as well as an auditorium. Thereby the tectonic expressiveness of the old brick is confronted with the monochrome serenity of the new walls and the stone or wood paving, so favoring a continuous dialectical relationship between the contemporary uses, the memory of the buildings and their organization in precincts. With the conclusion of this first phase, which manages to establish a model of occupation devoted to guarantee the survival of the original mining site, other architects will be given the opportunity to undertake further additions in the coming years to create more spaces in keeping with an artistic program in constant evolution.
Cliente Client
Communauté Française de Belgique, Province du Hainaut
Arquitectos Architects
Pierre Hebbelinck
Colaboradores Collaborators
A. Richard, C. Charbaut, P. deWit, E. Demoulin, F. Laumont, G. Honoré, J. Antoine, J-P. Possoz, L. Clapdorp, M. Serrão, O. Verdique, B. Brasseur, B. Brahy, J. F. Jaumotte, J. M. Sojic, M. H. Gérome;
Consultores Consultants
Sitech, VanWetter (estructura structure); Cédia (acústica acoustics)
Fotos Photos
Hélène Binet; Alain Breyer