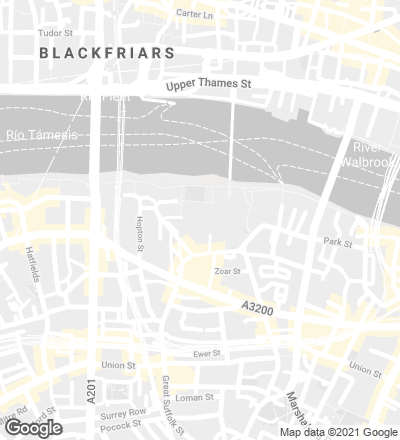 The Tate Modern has had a substantial impact on London since the opening of the first phase in 2000. Beyond its influence on the city's artistic, cultural and social life, it has been a key for the urban development of the South Bank. Keeping up with this, the recently completed extension of the museum, known as the Switch House, provides new public space and connects the Thames with Southwark, taking people from the north side through the existing building and the Turbine Hall out to a new city plaza to the south.
Tate Modern is the world's most visited museum of modern and contemporary art. It now aims to fully integrate the display, learning and social functions to meet the challenges of a 21st century art institution. Thus the project integrates numerous parameters, developed in close collaboration with the Tate, that had gradually been condensed into a pyramidal form generated from the combined geometries of the site and the existing building. The clover-shaped dramatic subterranean oil tanks are at the heart of these plans and they are a point of departure for the new building. The first phase turned the vast physical dimensions of the existing structure into a tangible reality, by digging out the Turbine Hall; now, the oil tanks not only form the foundation of the new building, but are also the starting point for intellectual and curatorial approaches. These approaches require a range of gallery spaces, large and small, along with less conventional 'As Found' spaces and better facilities for the gallery's popular learning programmes.
As well as doubling the gallery space, the project creates a diverse collection of public spaces for recreation, relaxation, group learning and private study. These spaces are spread over the building and linked by a generous public circulation system. The vertical orientation of the Switch House is clear and, from the north, it can be seen rising behind the power station without competing with its iconic chimney. The old and new elements of the Tate Modern are expressed as a whole, a characteristic that is further emphasized by the use of the same base palette of bricks and brickwork.
Arranged in a radical new way, the brick forms a perforated screen which filters the light coming in during the day, and through which the building glows at night. The brickwork reacts to the inclined faces by gradually stepping back, transforming itself from a massive material to a veil that covers the concrete skeleton. Strategic horizontal cuts break the continuous brick wrap, affording views and providing daylight and natural ventilation inside. 
Obra Work
Ampliación de la Tate Modern, Londres Extension of Tate Modern, London (UK).
Arquitectos Architects
Jacques Herzog, Pierre de Meuron, Ascan Mergenthaler (socio a cargo del proyecto partner in charge), Harry Gugger (socio a cargo hasta 2009 partner in charge until 2009).
Fotos Photos
Iwan Baan; Roland Halbe; Miguel Fernández-Galiano.