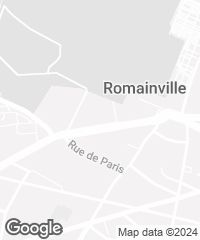 The Barcelona-based studio of Benedetta Tagliabue, in collaboration with the Paris firm ilimelgo architects, has refurbished Le Palais des Fêtes, an old events hall in the city of Romainville, 10 kilometers from the French capital, enhancing the structure of what had been the Polish Pavilion in the 1937 Universal Exposition.
Paying tribute to the city's industrial past, the new cultural center named Le Pavillon – all of 2,735 square meters – includes an auditorium with retractable stands, a performance hall, and offices. The festival palace, which reused the metal structure of the exhibition pavilion as a roof, had over time been hidden by additions. The new intervention has freed it of those additions.
Incorporated into the dialogue are two new faceted volumes wrapped in a double skin that combines exposed concrete – painted in different colors – with perforated metal sheets. The street-facing facade presents large openings in a rhythmic play of opacities and transparencies. The spatial organization encourages continuous and simultaneous holding of activities in the center of town.