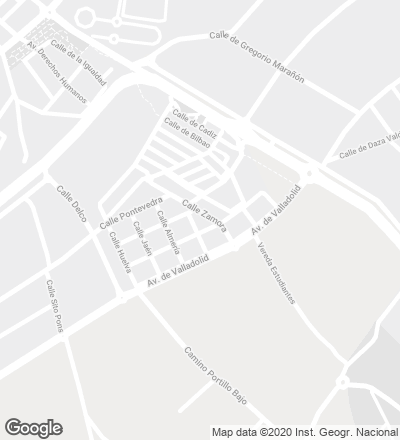 Located in Vereda de los Estudiantes, a neighborhood in the southern part of Leganés, this kindergarten is a place for play and for learning amid large urban blocks.
The scheme resorts to elementary geometrical figures; the circular floor plan allows making the most of the reduced plot; and the roof increases  the useable area by becoming an additional playground for the kids. 
As in the world of contradictory sensations described by Lewis Carroll, where reality is mixed with imagination, this project is challenged by the need to address a complex duality of scales, designing a space in which different perceptions coexist: those of children and those of teachers. It also follows the aim – inspired by the project Hans Scharoun presented in the Darmstadt lectures in 1951 – of making the spaces adapt to a child's different learning stages, from the individual to the collective one.
Inside the building, the different parts of the program are arranged in a series of translucid prisms following orientation and circulation criteria; the central lobby, a covered meeting space, becomes the heart of the project.
This encourages to devise the building from the inside out. The first element is the central space, which is the heart of the building and functions as a covered public space giving access to all the classrooms and avoiding corridor circulation. It is a free-flowing space with elements that favor tactile and visual perception: the circular patio that brings the outdoors indoors; the deep roof skylights rising two meters high that create a sheltering world of color; the access to the classrooms with unfolded partitions; and the deep windows, small individual spaces that children can use. All of these are resources to generate a haptic space rather than a purely visual one.
The school roof is a transitable sunlit space for playing outdoors; and the path to the roof, via a ramp that goes around the whole perimeter of the cylindrical volume, is another source of entertainment for the kids. 
There are no elevations and a circular floor plan is preferred in a topologically-conceived space. Choosing a circular floor plan makes it easier to adapt to the area in a complex triangular plot, and also solves the problem of orientation: the school building itself shades the interior playground. For this reason, and also because the plot area is reduced, the roof becomes another playground, with contours that favor learning, and becomes the project's distinctive architectural element. Going up to the roof is another adventure for the kids, who go into a vertical corridor that rises rhythmically, a ramp that runs along the perimeter of the freestanding cylindric volume that contains the building's technical services.
The different elements that make the interior layout of the building are arranged according to orientation and circulation needs. The classrooms face towards the southwest to make the most of the sunlight. The staff rooms and other installations face northwest, and have an independent access and circulation paths.
Cliente Client
Ayuntamiento de Leganés
Arquitectos Architects
María José Pizarro, Óscar Rueda
Colaboradores Collaborators
Alberto Galindo, Juan Navarro, Pablo Sáez, Laura Montero, Miguel Chillerón; Alfonso Prieto (aparejador quantity surveyor)
Contratista Contractor
Peyber, Forbo (suelos vinilo y PVC vinyl and PVC flooring)
Superficie construida Floor area
1.120 m2
Presupuesto Budget
1.260.424 euros (PEM)
Fotos Photos
Miguel de Guzmán