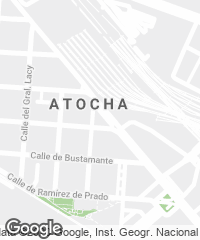 The 1985 town plan proposed in this part of the city to continue the layout of the extension foreseen by the Castro Plan, but it also proposed for the plot – a triangle whose area is one eighth of the traditional block – to be aligned with the diagonal street of Méndez Álvaro, boundary between the urban fabric and Atocha station's railway line. The project – promoted by the EMV, Madrid's Municipal Housing Corporation, and designated through restricted competition –, chooses to place two bays of dwellings, orthogonally, on each one of the sides, forming an L towards the extension and linking the resulting triangular public space with the main street and with the urban void of the railway tracks.
The combination of a domestic scale linked to the apartments, and another urban one related to the proximity with the train station determine a complex and ambiguous piece that seems to have at once two and six floors.
The building faces the peculiar characteristics of the site with a mixture of scales that also displays the duality between the block (large container) and the 43 dwellings (contained). The two volumes reach six heights by repeating two types of dwelling: duplex with an access corridor in the east-west bay, and double-aspect apartments with a central core in the north-south volume. The dwellings are accessed from the triangular square through vertical cores clad in U glass and red colored panels. Two large voids pierce the two buildings generating a connection between the square and the street in the east-west prism and making the proposal less compact as it rises in the perpendicular volume.
A double skin stresses the ambiguity of scales: a skin of dark prefabricated concrete panels covers the window-less facades of the container, while the dwellings adorn their facade with a mosaic that combines – in different positions depending on the height – 3 x 0,9 meter modules of prefabricated concrete panels in a lighter tone. The openings between panels reveal the anodized aluminum frames of the windows, as well as the balcony rails with glazed panes in the access galleries. The void-solid succession draws a bright tapestry, stressed by the upper and lower cornices of the container, and fragmented in the middle by a third cornice that reduces the perception of heights from six to two. The prefab panels are load-bearing structures that maintain the facade's continuity, releasing it from the need of pillars, which only appear in the interior bays. Finally, a platform provides the needed distance between the residential complex and the busy street so that dwellings can be fit out on ground floor. The pavement design, benches and trees recover the old diagonal alignment of the block.
Cliente Client
Empresa Municipal de la Vivienda de Madrid
Arquitectos Architects
María José Pizarro, Óscar Rueda
Colaboradores Collaborators
Juan Fernández, Vanesa Manrique
(arquitectos architecs); Pedro González, Adela Secades / EMV (aparejadores quantity surveyors)
Consultores Consultants
INDAGSA, José Luis Gutierrez, Leonor Martín (estructura structure); GEASYT (instalaciones mechanical engineering)
Contratista Contractor
Fercaber
Fotos Photos
a+t / César San Millán