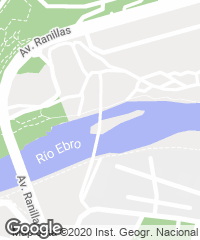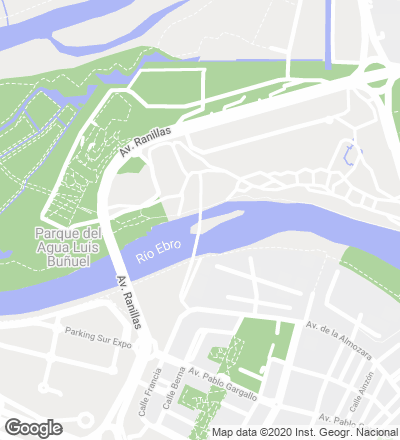 Proposed as one of the main gateways to the premises, the Bridge-Pavilion connects the neighborhood of La Almozara, on the right bank of the Ebro River, with the Expo Zaragoza fair grounds. A hybrid combination of bridge and exhibition pavilion, the building evokes the image of a gladiolus emerging from the riverbank with a single stem that generates at its center three 'pods' that end on the opposite shore.
The inception of the design comes from the examination of the potential of a diamond-shaped section that, thanks to the development of space-frame structures, is an optimum way of distributing forces. In this way, the space underneath the last floor plate is solved with a box beam for utilities. This diamond section is extruded along slightly curved paths, generating four different elements. The stacking and interlocking of these elements follows precise criteria with the objective of reducing the dimension of the load-bearing elements and optimizing the structural system. Moreover, this arrangement generates four characteristic spaces where each one fulfills a specific function:?two of them, with thermal conditioning, accommodate exhibition spaces, whereas the other two, without it, organize the itineraries.
Different natural surfaces where analyzed when designing the pavilion's skin, and shark scales were chosen as the most appropriate solution as much for their visual appearance as for their performance, because their pattern adapts to the complex curvatures. This skin is formed through the overlap, like sclaes, of FRC (Fiber Reinforced Composite) panels. Some of them rotate around an axis, allowing to open up parts of the facade.
The interior spaces have been imagined as if they could be shaped by atmospheric elements such as the sun and the north wind. The levels of light vary from rays through tiny punctual apertures to wide full size openings located in the lower level of the bridge. The structure consists of a metallic latticework with depths ranging from the 13 meters of one of the pods to the 30 meters of the central support. Every 3.6 meters a rib module shapes the 76 parallel cross sections into which the pavilion is schematically divided. The bridge-pavilion has three central supports materialized by 22 columns:?ten in the central part, eight on the left bank and four on the right one. The conditions of the terrain along the river demanded the use of 68.5-meter-long piers, the deepest ever to be built in?Spain up to now.
Cliente Client
Expoagua Zaragoza 2008
Arquitectos Architects
Zaha Hadid, Patrik Schumacher
Colaboradores Collaborators
Manuela Gatto (director de proyecto project architect); Matthias Baer, Soohyun Chang, Federico Dunkelberg, Fabian Hecker, María José Mendoza, José María Monfa, Marta Rodriguez, Diego Rosales, Guillermo Ruiz, Lucio Santos, Marcela Spadaro, Anat Stern (equipo project team)
Consultores Consultants
ARUP (ingeniería engineering); ARUP/IDOM (control de costes cost consultants); Golan Levin, Zach Liebermann, Christian Moeller (artistas artists)
Fotos Photos
Roland Halbe, eNVuelo, Fernando Alda