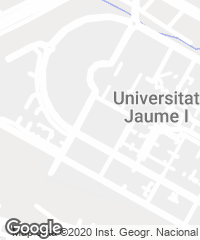 Founded over a decade ago, the University Jaume I has established its position in the province of Castellón, where it counts four campus already, and in the national education panorama. Located to the west of the urban center, the campus of Río Seco owes its layout to Antonio Fernández Alba, whose urban plan determined that all the buildings should be built in brick as main material. Since it houses a singular program, the design of the new sports pavilion seemed to demand a distinctive image; the answer to this came from changing both the traditional way in which the material was laid out as well as its size.
The structural grid and brick cladding show that the image of the building derives from the adopted construction system. And the layout of the program in three functional bands breaks the box's monotony.
The new construction covers the whole plot, burying itself in the natural slope of the terrain. From a functional scheme that divides the program into longitudinal bands, the different spaces are placed in three elongated modules that reveal their presence on the exterior with different heights. Towards the south and on the facade that is farther away from the central boulevard is a large sports hall, with an interior that combines the precise entrance of light through openings of different sizes with a continuous catwalk at midheight that embraces the entire space, including the rows of seats. The central band is in three heights: the first one houses dressing rooms and offices; the second, rooms for taekwondo, aerobic and weightlifting; and the third, a longitudinal piece oriented to the north to practice fencing. At street level, the most northern band houses the main access – with a large metallic canopy – and the cafeteria.
The coherence between the uses, construction and image is reflected on the structure, constituted by a metallic grid that defines windows of uniform dimensions – and plywood –in the interior. On the exterior, ceramic pieces of 1,27 x 0,30 centimeters, fixed to a metallic substructure, compose a rear ventilated facade of simple and precise assembly, aside from an excellent thermal and acoustic behavior. Vertical slats break the homogeneity of clay in the different voids of the box, while eight longitudinal skylights – oriented to the northwest to prevent dazzle – look over the roof profile, marking the location of the court inside the container. Extending the interior space, the gardened court on ground floor and the large terrace link the building with its surroundings. A staircase spans the slope around the complex and links the large hall with one of the campus avenues.
Cliente Client
Universidad Jaume I
Arquitecto Architect
Basilio Tobías
Colaboradores Collaborators
Jaime Magén, Santiago Carroquino (arquitectos architects); Enrique Morales (aparejador quantity surveyor)
Consultores Consultants
Ateco (cimentación foundations); Ingemetal (estructura structure); Inco-Grupo JG ingenieros (instalaciones mechanical engineering)
Contratista Contractor
Constructora San José, Heraklith (falsos techos ceilings); Tezno Cuber Composites (paneles de cubierta roof panels)
Fotos Photos
Lluís Casals