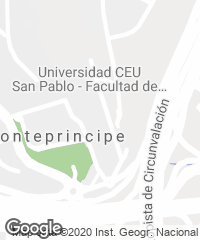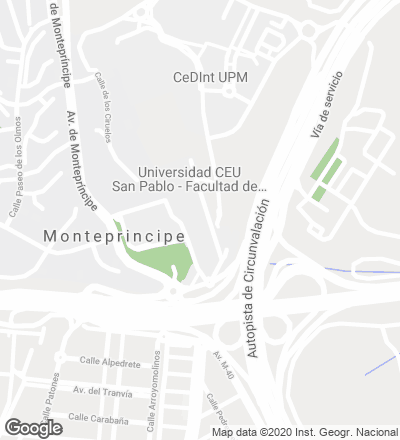 The campus of Montepríncipe is the most recent of the three that the private university San Pablo CEU has built in Madrid. Located in the town of Boadilla del Monte, to the west of the capital, it specializes in science studies. The polytechnic university is the result of an international competition of ideas organized in the year 2002, with a complex program – it offers degree courses in electronics, computer science and architecture –, that shall be completed in two phases. The first of which, almost finished and with an area of 22.600 square meters, places a double height container in a semi-excavated plaza that is devoted to two types of activities, those for gathering and for
On the black terrazzo surface of the lobby, the almost freestanding structures that form the non-academic areas of the building – and which have deserved special attention – extend the hustle of the campus. The auditorium is clad in white marble slabs, and its upper perimeter is wrapped by a band of white glass. With capacity for 525 spectators, the hall is covered on the inside with dyed and grooved beech wood, and takes in the light of the lobby with a white latticework of the same material used on the stage. The cafeteria, the chapel and the administration complete this floor, whose central band bears the presence – a layer of white gravel – of one of the upper courtyards, visually linking the two worlds contained in the building.

On a black terrazzo platform, the areas that complete the academic program, like the auditorium, extend the layout of the campus; the court of white gravel is a luminous trace of the upper floor organization.
The first and second floors are arranged according to the needs of teachers and students, with classrooms placed longitudinally and transversally. Three central courtyards (one of which descends to the ground floor) cross these two levels illuminating the auxiliary rooms and the larger classrooms, with a special emphasis on the drawing room, designed according to the style of the classic painting workshops with a slightly protruding profile. In a longitudinal direction, an interior corridor with four voids along which the staircases stretch traverses the prism. This corridor leaves the building through a light catwalk of wood that pierces, like a drawbridge, the side facade, offering direct access to the classroom level. The upper volume, clad in zinc panels – with horizontal windows towards the campus and small voids towards the open landscape – becomes wider, opening up a porch that serves as a meeting point.
Cliente Client
Fundación San Pablo CEU
Arquitectos Architects
Alejandro Virseda, Iñaqui Carnicero, Miguel Ángel Cámara
Colaboradores Collaborators
I. Vila, L.F. Cámara, M. Iglesias, A. Carrera
Contratista Contractor
ACS; Jabema (fachada de zinc facade)
Fotos Photos
Duccio Malagamba