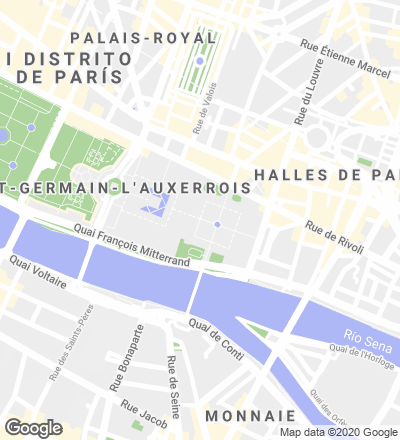 Francis Rambert
To tamper with the Louvre is a sacrilege or a privilege; a challenge in any case. In this regard, one can remember the big debate that took place between 'ancients and moderns' in the 1980s, when it was announced that I.M. Pei would be building his pyramid in the heart of the old palace of the Louvre. Since it opened in 1989 consensus has carried the day, and the success of the operation is now as popular as it is planetary. "What's important is what's underneath; you can't think of the pyramid as an isolated object", said the Chinese-American architect in 1983 to justify his daring intervention in the Napoleon wing, over a court that opens on the other side to a perspective of the 'historic axis' between the Louvre and Sant-Germain-en-Laye.
Thirty years later, one could almost use Pei's statement to explain the new project of the architects Bellini and Ricciotti – the former Italian, the second French – for the Cour Visconti, the courtyard that is situated on the Seine side, in the rear part of the Louvre. But the comparison goes no further than that. The design of Bellini and Ricciotti – who in the 2005 competition won over figures like Zaha Hadid or Coop Himmelb(l)au – is very different in essence. It is not a 'covering' action like Pei's work in the Cour Marly of the Napoleon wing, but an 'insertion' within a 17th-, 18th- and 19th-century jewel restored for the purpose. And what a purpose! To showcase Islamic arts. Much was therefore at stake...
Obra Work
Department of Islamic Art-Musée du Louvre.
Cliente Client
Musée du Louvre.
Arquitectos Architects
Mario Bellini / Rudy Ricciotti.
Consultores Consultants
Mario Bellini / Renaud Pierard (museografía museography); Nerco (ingeniería engineering);
Empresas Companies
Laine Delau/Soletanche Bachy (constructor main contractor); Waagner-Biro (fachada facade).
Fotos Photos
Antoine Mongodin, Lisa Ricciotti, Philippe Ruault.