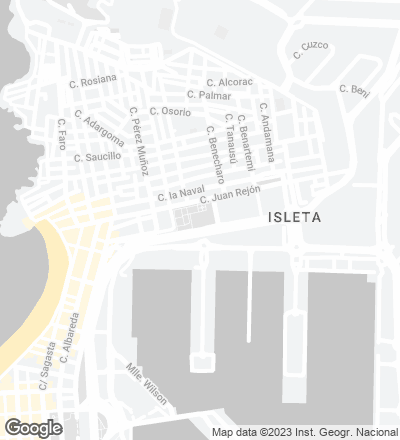 Listed as Historic Artistic Monument in 1941, the castle is now a museum and houses the headquarters of the Fundación de Arte y Pensamiento Martín Chirino, devoted to the legacy of the Gran Canaria-born sculptor. 

The Castillo de la Luz is for the city of Las Palmas not only one of the most significant buildings of its architectural heritage, but also a witness of the islands' history. Its location on the Isleta, the point of arrival of Castilian ships since the 15th century when the first fortress was built, justified its existence and the defensive role it maintained up to the 19th century. The passage of time affected not only its use and preservation, but also its nearby context. The old coastal fortress, once wrapped by water during high tide, is today surrounded by the buildings of Puerto de la Luz and the growing city of Las Palmas.
The most ancient element is a small tower dating back to the late 15th century. Shortly after, the initial volume was gradually extended to its current square shape. The space between the old tower and the perimeter walls was filled to increase the building's strength and resistance. Though the fortress was plundered and burnt during battle at the end of the 16th century, its structure stayed up in its original form up to the 20th century, after which it fell into disuse and was finally reconstructed in 1969.

Developed in different phases, the project aims to go unnoticed; the pavilion's roof, a horizontal platform that rises just slightly over the ground, is the only visible trace of an intervention that does not wish to compete with the castle, but rather assert its presence and complement it.

On the exterior, a recently built, fake perimeter pit has been dismantled to free up a vast surface of the terrain on the original, ground level of the fortress, revealing its full dimensions. A new, partially buried pavilion adds complementary spaces for the museum: access, shop, restrooms, storage, and multipurpose hall. A thin horizontal platform that barely emerges from the terrain will be the only visible trace of an intervention that wishes to go unnoticed adjacent to the building it serves and complements. Rather than rebuilding, the Castillo de la Luz is merely emptied, revealing its concealed past, now transformed into a space filled with light, as if paying tribute to its name.

In the courtyard, a free-standing volume of Cor-Ten steel wraps the elevator; an interior stairway made of the same material makes its way through the building, giving access to all the different exhibition levels. 

Cliente Client
Ministerio de Fomento Ministry of Public Works; Ayuntamiento de Las Palmas Municipality of Las Palmas (propiedad property)
Premios Awards
Concurso 1er Premio, 1998 Competition 1st Prize, 1998
Premio de Arquitectura Española CSCAE 2015, mención Spanish Architecture Award CSCAE, 2015, mention
Arquitectos Architects
Nieto Sobejano Arquitectos
Fuensanta Nieto, Enrique Sobejano
Superficie Total floor area
2.961m²
Colaboradores Collaborators
Pedro Quero, Alexandra Sobral (arquitectos de proyecto project architects); Carlos Ballesteros, Iago Blanco, Mauro Herrero, Juan Carlos Redondo (equipo de proyecto project team); Nieto Sobejano Arquitectos-Fuensanta Nieto, Enrique Sobejano, Miguel Mesas Izquierdo, José Mena, Edward Lynch (dirección de obra site supervision); Nieto Sobejano Arquitectos (maquetas models)
Consultores Consultants
N.B.35 S.L. (estructura structural engineer); Aguilera Ingenieros S.A. (instalaciones mechanical engineer); Nieto Sobejano Arquitectos - Fuensanta Nieto, Enrique Sobejano (museografía museographic project); María Luisa García, Ernesto García, Luis Labrandero
(arquitecto de proyecto museográfico museographic project architects)
Empresa constructora Construction company
Dragados (1ª fase 1st phase); Trycsa, Técnicas de la Restauración y Construcciones, S.A. (2ª fase 2nd phase)
Fotos Photos
Roland Halbe, Aurofoto, S.L. (maquetas models)
Concurso Competition
1998
Proyecto Design
2002
Finalización Completion
2004 (1ª fase 1st phase); 2013 (2ª fase 2nd phase)