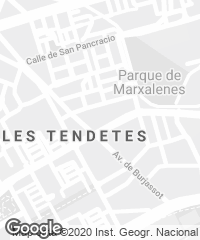 Built in 1930 by the Valencian architect Cayetano Borso di Carminati, the old hydraulic pump factory of Carlos Gens, on Avenida de Burjassot, is one of the few standing examples of industrial architecture from the period. The complex was closed permanently in the year 1991, and was in a state of neglect since then, but its architecture and the art déco style of its facades turned it into a unique and special site for new uses. Now, after a complete refurbishment, the building has reopened its doors as a multipurpose space where the Fundació Per Amor a L'Art will develop its three-branch activity: arts, social, and research.
From the outset the main objective was to apply a homogeneous intervention criterion to the whole complex, and, at the same time, give each building, be it original or recently completed, the characteristic features required for its specific use.
The core of the complex is the art center, which uses four of the original warehouses and most of the facade. By its sides is the restaurant and the daycare center – for children at risk of social exclusion –, as well as the foundation's offices, occupying the former villa. Other detached areas such as the site of the 15th-century cellar in the backyard or the air-raid shelter from the Civil War are articulated by courtyards and gardens that allow the proper use and enjoyment of the whole complex and of each of its corners.
The new contemporary art center takes up the four original warehouses of the old factory, devoting 2,600 square meters of a total of 6,000 to exhibition space. The project also recovers an air-raid shelter from the Civil War and a cellar from the late 15th century in the backyard. 
Ceramic brick and galvanized steel are the most used materials because they evoke the original industrial atmosphere of the complex. In some other more secluded places the design reinterprets the original tiling of the cellar and the archery, which is combined with the wood to make the rooms more distinguished. The original lightweight timber decks are reproduced in the interior.
Visitors access the Bombas Gens Art Center through the art déco facade, and reach the courtyard walking on a restored industrial weighing machine that covers most of the floor of the hall. In the courtyard, some hackberry trees grow on a floor covered by salvaged sandstone cobbles. Its irregular shape unveils the different facilities: straight ahead is the access to the art center, the restaurant to the right, and the offices to the left, partially secluded from the entrance.
Cliente Client
Sancana S.L.
Arquitectos Architects
Ramón Esteve (arquitecto architect); Eduardo de Miguel (arquitecto rehabilitación refurbishment architect); Annabelle Selldorf (arquitecto museístico museum architect)
Colaboradores Collaborators
Rafael Ferriols (arquitecto técnico quantity surveyor); REE Víctor Ruiz, Javier Estevan, María Luna, Francisco Palomo
Consultores Consultants
ICA S.L. (instalaciones mechanical engineering); Estructuras Singulares / David Gallardo Llopis / UPV (estructura structural engineering); Gustavo Marina (paisajismo landscape)
Contratista Contractor
Grupo Inserman, Bertolín (estructura structure)
Superficie construida Floor area
6.980 m²
Fotos Photos
Alfonso Calza, Frank Gómez