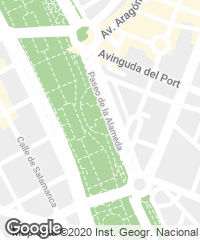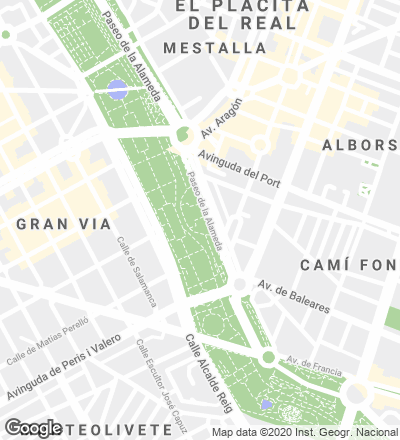 The palau de la Música of Valencia is one of the most perfect acoustic works of the ill-fated José María García de Paredes, great expert in musical projects and also the designer of the auditoriums of Granada and Madrid. Opened only fifteen years ago and the flagship of musical vocation of the capital of Levante, in the last year the building has undergone an extension that takes up the adjacent plot with new rehearsal rooms, offices, a multipurpose hall and an archive, aside from a cafeteria. The location of the Palau – in the gardens of the Turia, forming part of the old river bed that has become an extense linear park – as well as its architectural personality have determined the nature of the extension, a series of buried spaces in two levels whose gardened roof does not visually alter the configuration of the site.
Located on the southern side of the auditorium and buried in two levels, the extended areas do not alter the characteristic image of the Palau, blending naturally with the gardens of the Turia's riverbed.
From the Paseo de la Alameda, that runs parallel to the river bed, a sloped courtyard adorned with three palm trees descends to the first underground level. Visually connected with this courtyard and in a transversal direction, stretches a larger patio covered in grass and dotted by eight tall poplars that can be seen from the street. This buried garden illuminates the central space of the extension, a rectangular lobby paved with rubbed finish filite stone, that performs as a public plaza that orders and articulates the interior. The two levels of the administration areas – located to the south and open to a central courtyard – are linked by an interior staircase which isolates them from the areas of the musicians and are illuminated by a third, smaller courtyard.
Around the central space are the areas for the musicians: the rehearsal room for the orchestra is in the west end, while the two rooms for group rehearsals and the four individual rooms embrace the north and the east lobby, respectively. A multipurpose hall and the archive complete this area, separated by the deepest notch that the garden of access excavates between both of them. Wood, glass, concrete and stone alternate inside and outside these areas, blurring the boundary between the exterior and the interior. The cafeteria breaks the orthogonality of the floor plan and so creates an exterior terrace that is shared by musicians and staff, the cafeteria opens to the river Turia. A ramp set out along the full length of the avenue leads to the loading and unloading area beneath it. This point directly connects the Palau and the new extension.
The atrium, paved with rubbed filite stone, takes in light from the largest court and articulates the spaces.
Cliente Client
Ayuntamiento de Valencia
Arquitecto Architect
Eduardo de Miguel
Colaboradores Collaborators
Arancha Muñoz, Antonio García, Pablo Fuertes, David Zaragoza; Benjamín Pérez (maquetas models); Juan José Peris, Francisco Hidalgo (aparejadores quantity surveyors)
Consultores Consultants
ICA (instalaciones mechanical engineering); ICCP, Carlos Miragall (estructura structure)
Contratista Contractor
ACS-SECOPSA
Fotos Photos
Duccio Malagamba