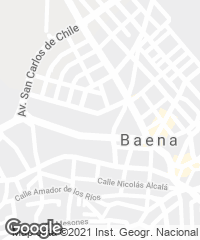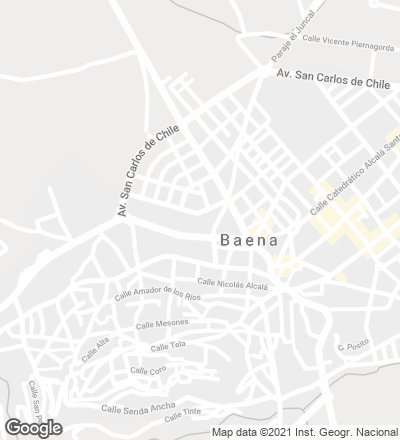 With privileged views of the historic quarter of Baena, this Center for the Elderly is configured as a lookout that opens up to the landscape and directs its views towards the main urban landmarks of the Cordovan municipality. Sitting on a raised platform on the northern hillside, the building consists of three divergent volumes that overlook the neighboring traditional houses, the church, the castle and the city wall.
Located on the northern side of the municipality of Baena, the Center for the Elderly unfolds towards the urban landscape of the historic center, positioning each of the volumes to ensure they afford the best views. 
Three different pieces harbor the program, which is accommodated in one single floor to improve accessibility. Outside, a series of ramps span the unevenness of the site and link up the different free spaces. 
On a closer scale, the pieces blend into the urban fabric, fragmenting themselves so as not to exceed the height of the adjacent constructions, mostly residential buildings of two or three floors. But, at the same time, the center asserts its uniqueness by means of a composition of pure volumes with an object-like character, so that neighbors can identify its public nature. The building addresses, therefore, the close and the faraway scale in a parallel manner. The boldness of the general volume is dissolved in each plan through a series of latticeworks with different degrees of transparency depending on the orientation. This orthogonal grid nuances the views, filters sunlight and gives the rooms privacy.
The building proposes a complex interplay of transparencies between interior and exterior by means of a latticework that filters sunlight and the views, and improves privacy conditions in the different rooms. 
To guarantee that at all times the users will have freedom to move around the premises, the exterior topography has been modified through a system of sloping surfaces and ramps that connect the different spaces. Furthermore, the compound is linked with the pedestrian promenade that also connects with the gardens on Demetrio de los Ríos Street, extending in this way the green area associated to the center.
Inside, the location of the rooms has been chosen according to two essential criteria: awareness of the urban landscape and accessibility issues, bearing in mind that the main users of the center will be senior citizens. The gallery of access to all the premises has sufficient space to be used by a considerable number of people, including those with disabilities or limited movement capacity. 
The busier, more public areas are closer to the entrance, while the specialized zones are connected perpendicularly to the corridor. The outdoor space is another living room, including a covered porch for smokers. The bathrooms are larger than initially foreseen in the competition, therefore making sure that the demands of users, who in some cases need to use these facilities very often, are always met.
Cliente Client
Consejería de Salud de la Junta de Andalucía
Arquitectos Architects
Francisco Gómez Díaz, Baum Lab: Marta Barrera, Javier Caro, Miguel Gentil
Colaboradores Collaborators
Francisco Sepúlveda (arquitecto técnico quantity surveyor); Matheus Mehler, Ariane Chiaranda, Pablo Gómez
Consultores Consultants
Francisco Duarte y Asociados (estructuras structure)
Contratista Contractor
Ehisa/Elecnor
Superficie construida Floor area
1540 m²
Presupuesto Budget
1.350.000 euros
Fotos Photos
Jesús Granada