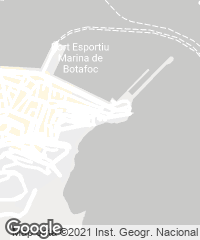 In the Balearic Isles, the meeting of foreign influences with an architecture of strong autochthonous roots generally produced eclectic or merely mimetic results. Erwin Broner's coherent synthesis of tradition and the avant-garde is an isolated case.
Broner studied in Stuttgart, where he was able to witness the building of the legendary Weissenhof Siedlung, designed by Mies van der Rohe in 1927. Forced to leave Germany for being a Jew, he began an intermittent nomadic existence, but always gravitating around the Mediterranean, which he took to represent the ideal way of life. He studied the popular housing types of Ibiza during the thirties and built the baths of Talamanca before emigrating to California, where contact with Hollywood bore upon his ability to film 9architectural recourses. In 1959 — the year he founded the pictorial movement Grupo Ibiza 59 — Broner settled for good on the island, where he came to build a total of thirty houses, mostly for artists and dealers. These residences sum up and adapt Ibiza's traditional 'type' — where a large central space organizes the rest of the house around it — to a Corbusian compositional vocabulary.
Embedded in the Sa Penya quarter and protected by the bulwark of Santa Lucia, Broner's house-studio rises over the remains of an old construction, on the edge of a huge rock over the sea. One descending the cross road is surprised by its simple exterior image: a white box crowned by the curved walls of the solarium, with its green and red ochre finishing. The residential floor includes a transition lobby covered by a trellis-work of pine trunks, and a staircase girdling the party wall leads from here to the roof terrace. A number of elements that fall short of reaching the ceiling mark the different premises, and from a continuous window one can contemplate the sea.
The cinematographic experience is manifested in a kinetic and sequential perception of architecture, one which accentuates the diagonal lines by focusing on the corners of the natural light shining from above, as well as of significant pieces like the fireplace or the staircase. The painter's eye is reflected in the use of color and chiaroscuro. Both an interior staircase and an exterior ramp lead down to the studio, which adapts to the topography through a series of echelon arrangements that help to define the different work zones...[+]