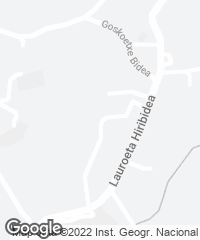 A farmhouse located on the outskirts of Bilbao has undergone a thorough transformation job to accommodate independent dwellings for two generations of one same family.
While the ground story follows an open scheme with large, floor-to-ceiling windows facing the landscape, the upper level is configured as a succession of spaces with openings cut out on the patterned facade.
Obra Work
Re-House, Lujua, Vizcaya (España) 
Re-House, Loiu, Biscay (Spain).
Arquitectos Architects
BEAR / Ane Arce, Iñigo Berasategui (socios partners); Acha Zaballa / Cristina Acha, Miguel Zaballa (socios partners).
Contratista Contractor
ALUR; EIBHO Group (carpinterías frames); Rua Alberdi (ebanistería woodworks); CODENOR (aislamiento de fachada facade insulation); Forbo (suelos flooring); Finsa (tableros de melamina melamine boards); Itesal (ventanas windows); Jaansen (lucernario skylight); Cinca Ceramicos (baldosas ceramic tiles); Porcelanosa (encimeras counters); Caparol (aislamiento térmico thermal insulation); Kvadrat (textiles textiles).
Superficie Area
210 m².
Fotos Photos
Luis Díaz Díaz.