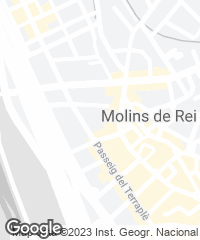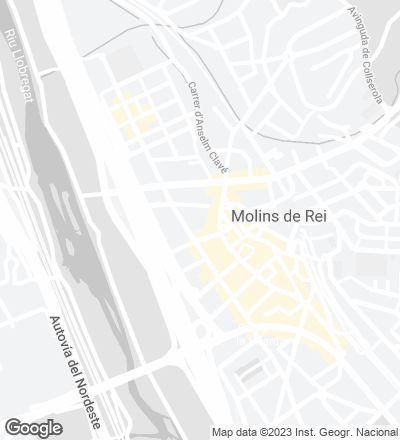 In the town of Molins de Rei, in Barcelona, the new El Molí Library – previous Biblioteca Pau Vila – is located in the old industrial warehouse of Ferrer y Mora, a textile factory built in 1858, also known as 'fábrica del molí' because of its location close to a mill that used the hydraulic energy supplied by the Rec Vell until a steam engine was installed. In 1936 it was made public, as were other factories in Molins de Rei, and then finally in the mid-1960s it was closed down and fell into a state of neglect until the town council decided to refurbish it so it could harbor municipal facilities.
The library takes up the two upper floors, and the rest of the building contains offices and administration facilities. This layout determines the new section of the roof, which recovers the original profile of the factory, incorporates views and natural light, and creates terraces on the top floor.
As the Paseo del Terraplè does not follow the trace of El Molí, the building stands in a unique urban position. The south facade has become a visual landmark in the factory. The old side facade, with practically no openings, is transformed into a corridor that takes light inside, filtered through a ceramic latticework. This space accommodates an outdoor reading zone, as well as the stairs and entrances to the new municipal premises.
The vertical communications core and the installation ducts are located in the center of the building. This new space, which connects the different floors, has a system of crossing footbridges around a staircase that hangs from the ceiling, making it easier to understand the building through the visual relationships established between levels. The traces and textures of the past on the walls have been preserved, as well as the irregularities of the surfaces where the belts and pulleys were anchored.
The project is centered on the restoration of the facade materials and on the recovery of the original interior structure, through an upper reinforcement with lightened concrete over the ceramic timbrel vaults, held by cast iron columns, on which the existing wood beams rest.
A part of the basement has been integrated into the ground level, so that the old halls can be seen, including an original dual turbine of the factory, which was found and unearthed during the construction works.
Cliente Client
Ayuntamiento de Molins de Rei/AMB
Arquitectos Architects
Antonio Montes Gil (AMB)
Colaboradores Collaborators
Maria Sánchez, Mireia Díaz (arquitectas técnicas AMB quantity surveyors AMB); Juan Ignacio Eskubi/ Eskubi-Turró Arquitectos (estructura structure); Higinio Arcos (instalaciones mechanical engineering); Mur-arquitectura (proyecto project); Jesús de Santiago (ingeniero ICA-grupo, obra engineer ICA-group, construction); Rosa Bertran Martimpé, (arquitecta, fase proyecto y obra architect, project and construction); Irene Puig Escamilla, Paula Beltrán Carlos (arquitectas architects); Laura Gómez Ruiz (estudiante de arquitectura student of architecture)
Contratista Contractor
Grupmas Constructors S.L. (fase 1 1st phase), Cots i Claret S.L (fase 2 2nd phase)
Superficie Floor area
4.713m² (total); 2.004m² (biblioteca library)
Presupuesto Budget
4.870.312€
Fotos Photos
Jordi Surroca