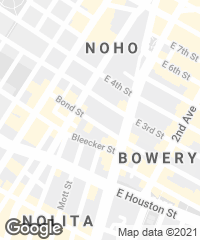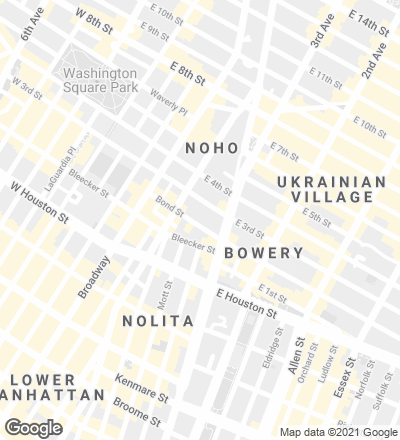 The Bond Street area was, with its elegant brick and marble-faced row houses, one of New York's most exclusive neighborhoods in the early 18th century. The area lost its glamour in the 1840s when Fifth Avenue became more desirable and commercial buildings began to replace the mansions in this area of NoHo, creating a mixed and complex fabric that reflects the economic, social and technological transformations of New York in the 19th century.
This apartment building takes up five of the old elongated plots on the street. The use, volume and height allowed was predetermined, and the task was to develop a design for 28 condominiums within strictly defined criteria. The project takes these premises and enhances them by stacking two distinct residential types in the same structure: the townhouse and the apartment block.
The five townhouses of the ground floor reintroduce the scale of the original lots. Each residence has a recessed entrance porch across its street frontage and a garden to the rear. The porch is separated from the street by a cast aluminum gate, which acts as a physical barrier as well as a visual screen. The gate is a collage of graffiti tags, which have been translated into the third dimension with the help of a computer. The thickness of the strokes is defined according to material and thickness requirements of the casting process. In this sense, the software used optimizes the density and distribution of the tags according to the structural requirements of the gate.
The apartment block is stacked above the townhouses, and is accessed via a long and narrow corridor located in the center of the ground floor, connecting the street with a small communal rear court. Its design is a reinvention of the cast-iron building found through NoHo and SoHo. The structure of the building is pushed to the exterior, thus introducing depth and liberating the interior from freestanding columns. Both slab and column are made of reinforced concrete, and clad with gently curved glass covers, which wrap over the structure and can be read as a continuation of the windowpanes. On one hand the skeleton and bones of the building are expressed, on the other they also melt into the glass surface of the window bays and dissolve in a play of translucency, light and reflection. The color of the building is the color of glass, with its many shades of green, which depend on light viewing angle, thickness and layering of the glass.
Cliente Client
Ian Schrager Company, New York, USA
Consultores de diseño Design Consultants: Herzog & de Meuron
Socios Partners: Jacques Herzog, Pierre de Meuron, Ascan Mergenthaler (socio responsable partner in charge).
Equipo de proyecto Project team: Mark Loughnan (asociado associate), Sarah Cremin, Kentaro Ishida; Roman Aebi, Marcos Carreno, Julie Firkin, Volker Helm, Donald Mak, Götz Menzel, Severin Odermatt, Philipp Schaerer, Günter Schwob, Charles Stone, Caro van de Venne
Planeamiento Planning
Handel Architects LLP (planeamiento general general planning); Herzog & de Meuron (planeamiento de arquitectura architect planning); Desimone Consulting Engineers (estructuras structural engineering); Ambrosino DePinto & Schmieder (mecánica mechanical engineering); Bovis Lend Lease (construcción construction management)
Consultores Consultants
Israel Berger & Associates, Dewhurst Macfarlane and Partners (fachada facade); Johnson Light Studio (iluminación lighting)
Contratista Contractor
S&C Products Corporation, Empire Architectural Metal Corporation (subcontrata de fachadas facade subcontractors)
Fotos Photos
Iwan Baan; Herzog & de Meuron