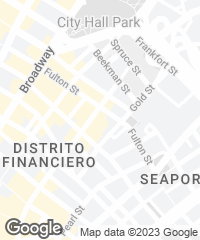 Located in the Lower Manhattan financial district, near Tribeca and South Street Seaport, 130 William will rise 240 meters tall, making a bold architectural statement and a unique addition to Manhattan's iconic skyline. The mixed-use high-rise is designed as a vertical city, complementing the residential spaces with retail and amenities – from health club to movie theater –, while a new public park at the base creates a transition area from the street to the residences. With this broad program the project expands on the studies of density in cities and seeks redefining life in vertical neighborhoods.
One of the most distinctive features of the building is its custom hand-cast façade, which departs from the typical commercial feel of glass and embraces New York's history of masonry architecture. The textured façade gives way to smooth and delicately crafted details, which all come together with refined bronze detailing. Drawing inspiration from the beloved lofts that once populated the area, the large-scale arched windows bring in light into the dwellings, offer unprecedented views over the island, and open up on the top floors to large loggia terraces that wrap the residences from end to end.
Obra Work
Torre 130 William, Nueva York (Estados Unidos) 
130 William Tower, New York (United States).
Cliente Cliente
Lightstone.
Arquitectos Architects
Adjaye Associates.
Consultores Consultants
Hill West Architects (arquitecto local architect of record); William Weintraub Diaz (paisajismo landscape); McNamara Salvia (estructura structure); Ventrop EGC (instalaciones MEP services); AKRF Engineering PC (ingeniería civil civil engineering); Gilsanz Murray Steficek (fachada facade); Brian Orter Lighting, Design BOLD (iluminación lighting); Gilbane (dirección de obra site supervision).
Superficie Area
41.500 m².
Altura Height
240 m.
Fotos Photos
Paul Clemence; Ivane Katamashvili; Michael Kleinberg; Nigel Young.
Imágenes Images
Binyan Studios/Lightstone.