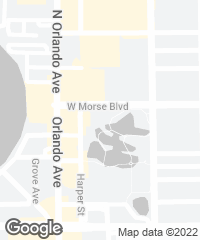 In the placid city of Winter Park, near Orlando, Martin Luther King, Jr. Park welcomes this civil and cultural center. As part of an extensive revitalization of the park, the new hub is in harmony with the unique tropical ecology of the site, and is conceived as a micro-village of three pavilions varying in scale and function but sharing a formal language.
The complex gives the community a new library and a venue for events. These are unified by an entrance portico that acts as a transition space. The entire complex is built upon biophylic design principles and uses rose-pigmented concrete as main material. The arches evoke native fauna and vernacular architecture in equal shares, forming vaulted ceilings and picture windows that open the building toward the park and bring in natural light galore.
In the library zone the spaces are open and flexible, giving users easy access to information. As for the events area, it features a multipurpose auditorium and an ample terrace on the roof, with sweeping views of the park and its lake. The overall result is a new place for social interaction and intellectual enrichment, connected to the natural environment.
Cliente Client
The City of Winter Park
Arquitectos Architects
Adjaye Associates, HuntonBrady Architects (arquitecto local local architect)
Paisajistas Landscape architect
Land Design
Estructura Structure
TLC Engineering for Architecture
Instalaciones Mechanical engineering
TLC Engineering for Architecture
Ingeniería civil Civil engineer
Land Design
Consultores Consultants
Thornton Tomasetti (envolvente envelope), Phil Bean (restauración food service design), Gary Seibein (acústica acoustical design), Poblocki (señalética signage consultant), The Pizzutti Companies (representante propiedad owner's representative)
Constructor Contractor
Brasfield & Gorrie
Superficie Floor area
5,184m²
Fotos Photos
Dror Baldinger; Chad Baumer; Ivane Katamashvili