Apartments and Offices in an 1880 Warehouse, Hamburg
Jan Störmer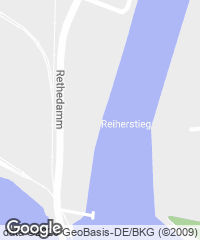 Perhaps due precisely to its success, the port of Hamburg has taken its time to start reusing its installations for new purposes unrelated to sea transport activities. But the transfer of the large container terminals to the southern shore of the Elba River has gradually started to vacate the wharfs that are closer to the city, those that turned the Sankt Pauli district into one of the most famous quarters amongst sailors thanks to its nightlife. The Holzhafen – the wooden docks built in 1724 – concentrated a series of fish and grain storage sheds that now are to be converted into an administrative and residential space, so recovering the relationship between the urban center and the water.
The first intervention for the revitalization of this area that lies to the west of the emblematic fish market has been the rehabilitation of the Stadtlagerhaus, a warehouse and a grain silo built in 1880 and which were in use until 1995. Integrated by a cubic volume of brick and a narrow, tall volume with a pitched roof, the unit has been transformed to house offices and dwellings that enjoy the views of this vast river bed. Devoted to landscape offices that may also be used as studios by photographers, architects or advertising agencies, the cube that corresponds to the old warehouse now supports a four-story volume that wraps up 28 deluxe apartments behind an enclosure of glass slats. Two-meter wide galleries separate this first skin of the dwellings' actual enclosure, protecting its interior from the noise of a commercial port that is running 24 hours a day. The addition of this crystalline prism has transformed this functional and anonymous building into a landmark within the profile of the city along the Elba River.
With greater difficulties to capture light, the silo has subordinated its program to its two bays. The part facing the old warehouse houses offices, while the other half of the building – which shares a party wall with another shed and thereby is not provided with windows – has been endowed with a mechanized parking system in view of the impossibility to dig out garages in a subsoil flooded by the river. The geometric antagonism of the warehouse and the silo has been overcome by using on both brick and copper sheeting, a combination of materials present in the city through the bell towers that, from afar, identify the districts that used to form the traditional city, that which was devoted to the coffee and species trade that still lingers in the collective memory.
Cliente Client
Volksfürsorge Versicherungsgruppe
Arquitectos Architects
Jan Störmer
Colaboradores Collaborators
Boris Krusenotto (proyecto de ejecución construction documents)
Consultores Consultants
Constanze Biesterfeld (gestión project management); Assmann (estructura structure)
Contratista Contractor
Garbe Bautechnik
Fotos Photos
Dirk Robbers/artur; Oliver Heissner/artur