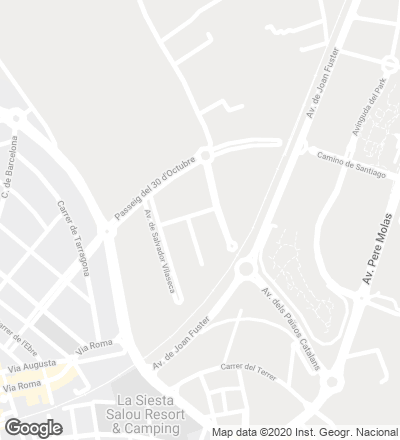 Salou is on the southern coast of Tarragona. The Prades Mountains run parallel to the coastline at some 25 kilometers, and the humid air from the sea meets the range and is condensed in the form of rain that falls on the steep mountain slopes and waters the fertile plain. This cycle characterizes the agricultural landscape of the area. The logic of the agricultural model and its interaction with natural cycles clashes with the urban growth model, which sees the terr
The apartments have two opposite orientations and propose a transversal sequence of spaces  – footbridge, dwelling and terrace – that improve versatility and favor adaptation to different types of use and climate.
The competition brief called for the design of 80 subsidized housing units on the north end of Salou. Set forth as a new urban web that prevails over the existing agricultural pattern, the new site consists of large plots containing freestanding buildings arranged orthogonally. The regulations defined two equal volumes at the corner of one of the urban blocks and in contact with the new park. With a 15x52 meter floor plan, each one is positioned to let sun make its way inside. After pondering on issues such as porosity and the relationship with the environment, and pursuing a fast-paced growth, the proposal focuses on the importance of the intermediate spaces, transitions and thresholds as links to establish a continuous relationship between the different spaces. The project therefore proposes a fabric with several degrees of intervention, whose social housing program encourages interaction among users.
The total cost is  optimized by designing one apartment type, organized in two bands according to privacy needs, and articulated around a central piece containing kitchens, bathrooms and services. 
The building has four floors, with ten apartments on each one. Three of them rotate towards the facade and the other seven are aligned onto the street, thus fragmenting the block into two parts, defining the corners and the relationships between the interior and exterior fronts of the complex. A gentle slope separates the ground floors from the terrain, letting light and air into the underground parking. This sloping plane carpeted with honeysuckle is dotted with poplars to protect from the southern sun during summer. At the same time, the accesses and communal areas are devised as gathering spaces, intermediate zones between the dwellings and the exterior space. The footbridge is understood as a transition element, where the corrugated steel mesh addresses the needs by establishing degrees of density (handrails, screens, balconies, watering...), also leaving room to grow plants that during summer can cool the spaces exposed to sunlight.  
The building is  completed with a palette of simple, economical and low-maintenance materials, but carefully arranged and executed. Moreover, the materials evolve reflecting the passage of time. 
Cliente Client
Foment Immobiliari Assequible, Fundació Obra Social "La Caixa"
Arquitecto Architect
Toni Gironès
Colaboradores Collaborators
Brufau i Cusó (aparejadores quantity surveyors)
Consultores Consultants
Orpa: Xavier Saura (estructura structure)
Contratista Contractor
Tarraco Empresa Constructora
Fotos Photos
José Hevia