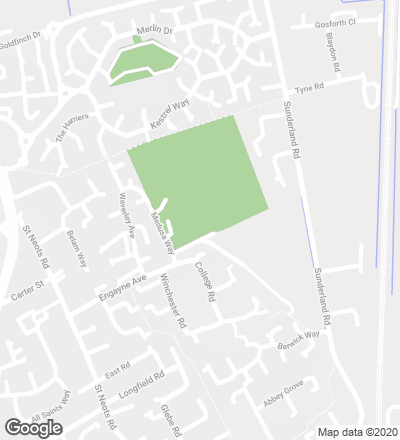 Under the name 'Classrooms of the Future', the Department for Education and Skills of the British Government set up in 2000 a program to assess and update the educational environment, in response to the growing sophistication of teaching methods and the increasing use of technology. As part of this plan, the Bedfordshire County Council received funding to cover the construction of three classroom buildings: Maple Tree, Burgoyne and Sandy, devoted respectively to lower, middle and upper levels of education in English schools.
The three classroom buildings have been designed as specific adaptations of one same project to the particular circumstances of each site and to the small variations of the program. This generic building is always added to an existing school which it complements, usually at a threshold with the landscape or a playing field and making the most of the opportunities that each site offers. In this way, Maple Tree School acts as an entrance to the nursery facilities; Burgoyne School, for its part, becomes the identifying sign of the existing school, occupying a prominent place in the entrance; finally, the volume of Sandy School allows to create, at the rear of the older facilities, the fourth side of a courtyard already vaguely defined by the two buildings that belong to the school.
These three Classrooms of the Future are conceived as grass roofed pavilions that blend into the surrounding landscape. The low-lying horizontality of the buildings contrasts with the diagonal and oversized skylights emerging behind the roof plane. These volumes allow at the same time the entrance of northern light through the horizontal glass facade and the optimal position at 45 degrees of the photovoltaic panels on their south facing slopes. The teaching project benefits from the floor plan of interlocking spaces, which produces a great variety of areas and gives the main one a multidirectional quality. The flexibility of the space devoted to teaching is achieved with the use of sliding panels and curtain tracks, and by way of the exposed arrangement of services through the ceiling.
Due to the prototypical condition of the three schools and their resemblance, the use of a characteristic color for each one of them is essential, and it is used as a distinctive feature in the window frames and in the fir plywood panels that cover the areas where the roof cantilevers to delimit spaces for play and porches... [+]
Cliente Client
Bedfordshire County Council
Arquitectos Architects
Jonathan Sergison & Stephen Bates
Colaboradores Collaborators
Rebecca Behbahani, Guy Derwent, Sophie Maree, Joanna Sutherland
Consultores Consultants
Greig-Ling (estructura structure); Ove Arup (instalaciones services); Smith Turner (costes y planificación costs and planning supervision)
Contratista Contractor
T&E Neville
Fotos Photos
Hélène Binet