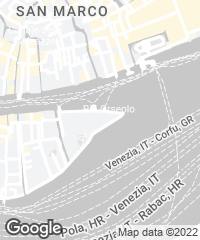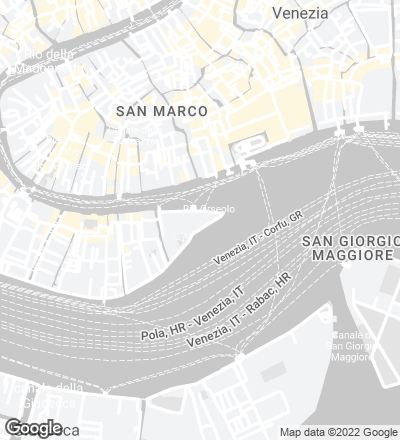 Surrounded by important historical buildings, among which the nearby Basilica of Santa Maria della Salute, the old customs building was raised in the 17th century by the architect Giuseppe Benoni at the entrance of the Grand Canal of Venice, on a triangular plot on the shore opposite Piazza San Marco. In 2006 and after several transformations, the Venice authorities decided to launch a competition for the remodelling of the Dogana di Mare into a center for contemporary art. The joint proposal of Tadao Ando studio and the François Pinault Foundation – which already had an exhibition space in the nearby Palazzo Grassi, also renovated by the Japanese studio in 2005 –, carried the day over the other shortlisted project, by Zaha Hadid in collaboration with the Solomon R. Guggenheim Foundation. 
The building has a total surface of 5,000 square meters and a simple and rational structure. The triangular volume, the prominent vertex of which is presided by a commemorative door measuring 28 meters high and crowned by a bronze sculpture, directly corresponds to the shape of the tip of Dorsoduro Island, whereas the interior layout is divided into long rectangles by a series of parallel walls. With great respect for this emblematic building, all partitions that had been added during previous renovations were thoroughly removed in order to recover its original form, at the very beginning of its construction. The project also exposes the original brick walls and the wooden roof trusses, which were completely restored, introducing new skylights that bathe the textured ceramic walls with a scenographic zenithal light. In the center of the building, a square space spans over two rows as a result of an earlier renovation. As an exception, this structure was kept as it is, inserting it in a new concrete box that creates a quiet, embracing space. The exterior brick walls have also been carefully restored, and the openings and frames of its twenty monumental windows were entirely renewed and protected with metallic latticeworks.
There is no attempt to disguise the new partition walls, stairs, walkways and service facilities within the old body of the structure. Instead, there is a continual play of juxtaposition, in which the new volumes and levels seem to mark out the stratifications added over time, turning the history of the Dogana into an essential part of the exhibition itinerary...[+][+]
Cliente Client
Centro de Arte Contemporáneo Punta della Dogana
Arquitectos Architects
Tadao Ando Architect & Associates; Equilibri: Eugenio Tranquilli, Verdiana Durand de la Penne (arquitectos asociados associated architects); Adriano Lagrecacolonna (arquitecto local architect of record) ?
Colaboradores Collaborators
Tadao Ando, Kazuya Okano, Yoshinori Hayashi, Seiichiro Takeuchi
Consultores Consultants
Adriano Lagrecacolonna, Sergio Rigato (instalaciones mechanical and electrical engineering); Gian Domenico Cocco, Tecnobrevetti (estructura structure); Luigi Cocco, Tecnobrevetti (obra civil civil engineering); Cinzia Ferrara, Pietro Palladino (iluminación lighting); Marco Bortoletto (arqueología archaeology); Guido Driussi, Arcadia Ricerche (materiales materials); Anna De Spirt, GRC (restauración restoration works)
Contratista Contractor
Dottor Group
Fotos Photos
Palazzo Grassi S.p.A./ORCH Orsenigo Chemollo, Thomas Mayer, Shigeo Ogawa