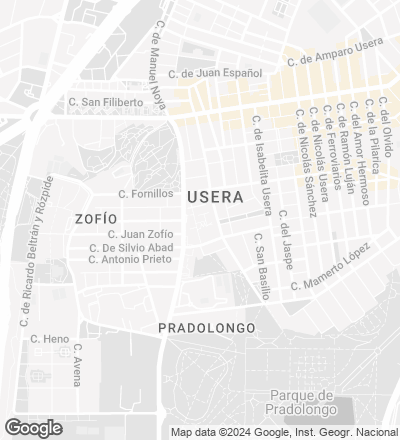 From the diagonal promenade that crosses the park of Olof Palme and amongst the tree tops, rises the new library of Usera. The project (winner in a restricted competition held in 1995) took on the image of a tower, the classical form identified with knowledge. The nine floors of the building reorganize a public and institutional area in the center of this popular and populous neighborhood in the capital's south.
Protagonist of the new urban scene that it has helped to create, the library-tower opens its windows like the pages of a book and rests on a plinth that connects it with the neighboring public buildings.
Two volumes, one horizontal and one vertical, combine to house the different parts of the program. At street level, an unsanded concrete plinth dyed pink links the quarters of the Junta Municipal (Municipal Board), to the north, with the tower, delimiting a square oriented towards the west of Madrid. In its interior – of over 2.000 square meters – are the areas devoted to book borrowing, as well as the periodicals library and the children and teen libraries. The most active area is thereby concentrated on the half-buried platform, leaving the reading rooms and less busy areas to the upper level. Light reaches the interior of the plinth through a rear courtyard, which solves the difference in level between the two fronts of the building and cushions the noise from the nearby parking lot.
The main entrance, at the base of the tower, connects the two volumes in a four-story void presided by the elevator shaft. Since the elevators are the main means of circulation inside the building, they have been designed as glass cases and move at a reduced speed. The reading rooms follow one another in three double-height levels that take up the entire quadrangular section of the building with an ingravid and still atmosphere. Alternating between them and on the oriental facade, three intermediate slabs house deposits, offices and smaller rooms. Light reaches the open-plan interior of the rooms – from where it is not possible to perceive the structure – by way of a double system of vertical openings, which are scarce and equipped with a diffuser that filters sunlight. The walls have been covered with canvasses by the American artist Peter Halley screen printed in different tones, creating a dense interior from which the panels that form the enclosure open, rotating upon themselves as if they were book pages. With their strategic search of the views and through a different entry of light depending on height, these panels organize the use of space. The exterior terrace is also a lookout and helps, by extending the design of the facade, to bring out the slenderness of the tower..

The vertical windows combine with metallic panels that open at specific points searching for the views and define both the filetered light of the reading rooms and the smooth and slender image of the prism.
Cliente Client
Comunidad de Madrid
Arquitectos Architects
Iñaki Ábalos, Juan Herreros, Ángel Jaramillo
Colaboradores Collaborators
Rocío Rein, Pablo Puertas, Miguel Kreisler (arquitectos architects); Peter Halley (artista artist); José Torras (aparejador quantity surveyor); José Alcoceba, Jorge Queipo (maquetas models)
Consultores Consultants
Juan Manuel Sierra, Juan Gómez (estructura structure); Jose María Cruz, Pedro José Blanco (instalaciones mechanical engineering); Juan José Núñez (estudio económico budget)
Contratista Contractor
Dragados
Fotos Photos
Roland Halbe, Rosa y Bleda