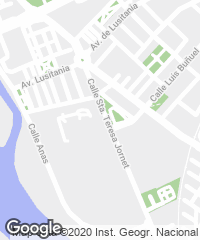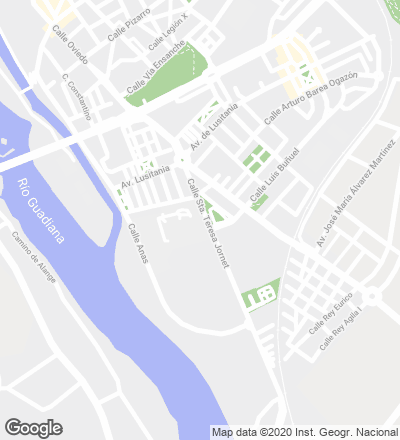 The city of Mérida – the actual seat of the government of Extremadura– goes up on the ruins of Emerita Augusta, the Roman city that always emerges from the subsoil as the new city tries to continue growing. 
Without forgetting the heritage of its rich past, the capital of the region that settled the traditional rivalry between Cáceres and Badajoz now looks onto the future, improving its infrastructures and enlarging all types of educational and cultural activities. The campus of the University of Extremadura is one of these interventions with which the town tries to support its expansion upon the shore of the River Guadiana opposite to the historic center.
The university grounds – located between Vicente Aleixandre Avenue and the river bank –extends upon an L-shaped plot whose final distribution is yet to be defined. In order to assume with flexibility both the internal distribution of uses and its urban role within the educational complex, the building that gathers classrooms and offices takes the shape of a regular, compact and neutral prism. The resulting parallelepiped – of one hundred meters long, three stories tall and fifteen meters deep – finds its most distinctive feature precisely in its great volume.
Over the volume of one hundred meters in length that corresponds to the classrooms, two smaller prisms house the department offices, which enjoy the views onto the garden that has been fit out on the roof.
Upon its landscaped terrace roof, two towers designed to house the department offices are raised as the bridge on the deck of a transatlantic ship. Of two stories, these volumes are wrapped by the vegetation that grows upon the terrace to reduce the impact of solar radiation on the building. With this same intention, the vertical walls are protected with a double screen: one with the shape of a ring plantation of Gingkos Bilobas surrounding the classrooms and another formed by a plan of metallic latticeworks – adjustable and foldable – that is superposed to the facade by its exterior front. In this way, the building blends into the changing vegetal landscape thanks to an artificial and permeable skin; a dignified, pleasant and shady oasis.
The flexibility which determined both the volume and the floor plan organization relies on a constructional approximation that has given priority to prefabricated assembly systems and standardization over custom-made solutions. A structure of metallic beam frames forms a sequence following a regular module to support the corrugated metal floor slabs, while the continuous paving will make it possible to propose new distributions of light partition walls to adapt to the changing needs of the center.
Cliente Client
Consejería de Educación, Ciencia y Tecnología, Junta de Extremadura
Arquitectos Architects
Iñaki Ábalos, Juan Herreros, Ángel Jaramillo
Colaboradores Collaborators
Uriel Fogué, Jacob Hense, Renata Sentkievick; Miguel Lázaro (aparejador quantity surveyor)
Consultores Consultants
Obiol y Moya (estructura structure);Javier Manso, María Ángeles López(dirección de obra site supervision)
Contratista Contractor
Magenta; Llambí (lamas slats)
Fotos Photos
Bleda & Rosa