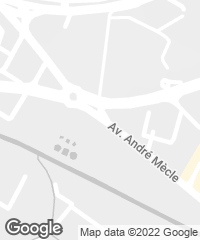 Next to the Canal de la Robine – listed as World Heritage Site in 1996 –, the museum is a new landmark in Narbonne, once a key communications node in the Roman road network through which Via Domitia ran, connecting Italy and Hispania.
The building will have galleries for permanent and temporary exhibitions, a teaching center and a multimedia library, as well as restoration and storage facilities, all distributed on ground floor, while administration offices are located in the mezzanine.
The roof of precast concrete components, inspired in Roman construction techniques, rests on SIREWALLS – Structural Insulated Rammed Earth Walls – striped in various tones of terracotta that reflect the natural colors of the earth in the region.
A collection of over 1,000 ancient relief tombstones found in the city's medieval walls forms a barrier between the public galleries and the restoration areas, allowing visitors to see archaeologists and researchers at work through a mosaic of stone and light.
The canopy is elevated above a clerestory and punctuated with light wells. It extends out to shade a wide public plaza around the museum. The ensemble is inspired by French gardens and Roman courtyards and feature an amphitheater.