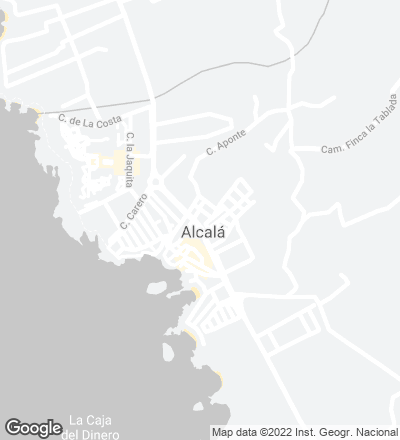 Since the closure, for security reasons, of the old Alcalá Church – finally demolished in 2011 – the neighbors have been determined to rebuild it. In response to this social demand, the Parish of Candelaria, the Bishopric, the regional Government, and the City Council joined forces to raise a new temple. In an area without architectural references, the new church had to recover the memory of the disappeared chapel, and constitute an architectural landmark in the neighborhood, a new center for Alcalá.
The project speaks of tradition, of recovering the memory of that old construction that stood alone on the fields of lava that lie, still today, under the asphalt. Starting from these premises, the new temple is formalized in two different naves: the old and the new. A single interior space becomes two different volumes from the outside. One of them recovers the shape and position of the old chapel in a reinterpretation of the traditional architecture of the islands as an attempt to recover its memory and alleviate the feeling of loss that its demolition caused. The walls are new, but the air they enclose is the same and condenses all the moments lived in that place. The image of the Virgin returns to its pristine position, occupying the same place as in yesteryear, at the head of the ancient body, this time protected in a cave that recalls its appearance to the Guanches (aborigines of the Canary Islands). The other volume, like a flame – the fire of the candle –, seeks the verticality bringing greater representation to the interior space, culminating in a skylight that illuminates the presbytery and connects both naves, symbolizing the bridge between tradition and modernity.
The addition of volumes comes from the typology of vernacular religious architecture, growing by naves with a patio attached. The strategy of decomposing the building into differentiated volumes has also been used in response to the rigid urban conditions that forced it to align the building with the perimeter road.
The simplicity of the materials chosen and the use of resources such as natural lighting give the space an ascetic character that seeks the essential. The volume that evokes the old chapel is executed in cyclopean concrete, recovering the natural stone existing on the site. The chiseled finish of this body is rounded off, in the traditional way, with limestone. The white of the lime contrasts with the ocher of the new volume, also built in concrete, this time mass-stained and bush-hammered with different intensities...[+][+]
Obra Work
Iglesia Nuestra Señora de Candelaria, Tenerife (España)
Nuestra Sra. de Candelaria Church, Tenerife (Spain)
Cliente Client
Obispado de Tenerife
Arquitectos Architects
Alejandro Beautell
Equipo Team
Alejandro Beautell (arquitecto principal lead architect), José Carlos Díaz (arquitecto colaborador collaborator architect), Eloy Fernández (aparejador quantity surveyor)
Colaboradores Collaborators
IGS (instalaciones mechanical engineering); C+C Consultores (estructura structure)
Constructora Contractor
Construcciones Rodríguez Mesa
Superficie Surface
1.100m²
Fotografía Photographs
Flavio Dorta