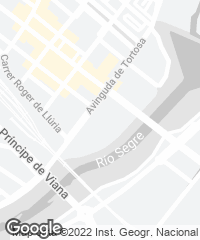 At the edge of the city, on the shores of the Segre River and close to the AVE station, the La Llotja Theater and Congress Center has as its backdrop the Seu Vella, the historical cathedral of Lérida, located at a hilltop. The project, which won the first prize in a competition held in 2005, views the mise-en-scène of the building on three different scales: on a large-scale, it links up with the river and the mountain; on an urban scale, it forms with the river a balanced composition; and, on street level, it offers protection against sun and rain.
The complex is made up of three parts:?the main volume, with a surface of 37,500 square meters, a second piece for offices of Mercolleida, with an area of 2.591 square meters – both linked below ground level through an underground parking – and, between both, an extensive public square, of 15.325 square meters, from which one reaches the auditorium and that uses the street-level space sheltered by the cantilever, turning the steps of the adjacent building into a tribune for outdoor events.
At the building's core a stately staircase that starts at street level rises up to the multifunctional level on the first floor. A ramp leads to the foyer on the second level, where a panoramic window looks out to the city and the river, and from where one accesses the theater – which also serves as conference hall –, the meeting room and the small hall, separated by a glass wall. The press office, VIP lounges and meeting center are located in the city-facing part of the building, and are reached through an interior corridor. The complex is designed to be traversed through a promenade of staircases and ramps that connect the spaces to one another. 

The structure of the building combines a concrete core and a metallic perimeter framework to support cantilevers of up to 19 meters, which give the building its unique character. The core absorbs the horizontal loads of the cantilevers through 40 centimeter thick transversal and longitudinal walls; these walls define the different halls that make up the program. The external cladding of the building, of limestone panels, evokes the image of harvested fields. The interior spaces are white-plastered walls and wooden floors – in the foyer – and marble – in the access lobby and multipurpose hall. Making reference to the fertile lands of the region, trees of light are cut out against the wooden walls of the main hall, while small luminous leaves dot the ceiling.

Cliente Client
Centre de Negocis i de Convencions S.A.
Arquitectos Architects
Mecanoo Architects, LABB Arquitectura (arquitecto local local architect)
Colaboradores Collaborators
Ardevols S.L
Consultores Consultants
ABT bv, BOMA (ingeniería estructural structural engineering); Peutz b.v., Higini Arau (acústica acoustics); Deerns, Einesa (instalaciones mechanical engineering); Basalt Nieuwegein; Ardevols S.L (presupuestos cost consultant); Einesa (seguridad antiincendios fire safety)
Contratista Contractor
Dragados
Fotos Photos
Christian Richters, Filippo Poli