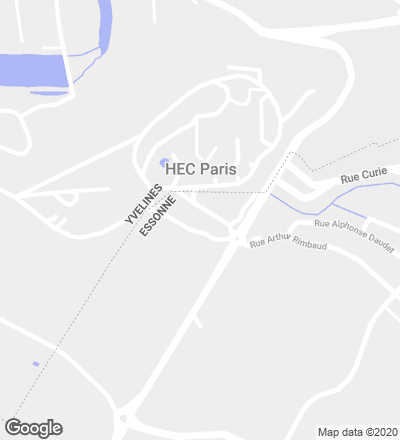 The new MBA Building for the École des Hautes Études Commerciales (HEC) is located on the prestigious school's campus, close to the historic Paris suburb of Jouy-en-Josas. The visionary original 1964 design of the campus had been compromised over the years, resulting in an incoherent accumulation of buildings with no clear focus nor sense of direction. This construction is the first stage in the implementation of a large-scale master plan to meet the demands of growing student and faculty numbers. Besides providing teaching facilities for the Master of Business Administration course as well as rehousing its general services, the building had to serve as a new gateway into the educational grounds, reinforcing HEC's image as one of Europe's top business schools.
Planning requirements stipulated a low building volume set back a certain distance from the site's boundaries. The main mass is broken up into a series of blocks that on plan are staggered along the long axis. This movement enriches the volumetric composition of the project and helps to create a diverse and dynamic public space on the south side of the building. The same variety characterizes the interior, the rigorous program of which is laid out in multiple halls of different sizes and features. The main entrance leads into a large central foyer which is considered as a vital space for meeting, encounter and informal gathering, beyond its practical and gestural functions. In tune with this idea, the corners of the staggered prisms are freed up and can be used as communal rest and study spaces.
The building envelope unifies a heterogeneous interior and a variety of programmatic elements within a single continuous skin. The palette of materials – aluminum for the curtain wall and exposed concrete indoors – refers to the 1960s campus blocks. The facade, articulated through vertical strips, is made of successive modules of 800 mm and 500 mm, separated by narrow protrusions that give depth and sculptural force to the building's front. Narrow horizontal bands in aluminum express the increasing story heights between floor slabs, from bottom to top, further unifying the composition of blocks. The structural and enclosure strategies also play a role in optimizing energy performance. Exposing the concrete structure within takes advantage of the material's thermal mass. This is facilitated by the aluminum mesh ceiling, which lets air circulate.
Obra Work
HEC Paris MBA Building
Cliente Client
Chambre de Commerce et d'Industrie de Paris, Extension du Campus de "Hautes Etudes Commerciales" (HEC)
Arquitectos Architects
David Chipperfield Architects London;
David Chipperfield (principal principal), Andrew Phillips (director director); Jan Vermeulen (director de proyecto project architect), Sandra Badji, Eva Funke, Julien Gouric, Matthias Heberle, Laurent Katz, Laurent Masmonteil, Charles Peronnin, Monica Resines, Gabriel Sanchiz, Sabine Piechotta, Max von Werz (equipo project team)
Colaboradores Collaborators
Debarre Duplantier Associes (paisajismo landscape architect); VP & Green Ingenierie / Adams Kara Taylor (estructura structural engineer); Ingenierie Louis Choulet (instalaciones services engineer); VP & Green Ingenierie (fachada facade consultant); Cabinet Lamoureux (acústica acoustic consultant); Batiss (incendios fire protection consultant); Debarre Duplantier Associes (arquitectos de contacto contact architect); Mazet & Associes (aparejador quantity surveyor); Labeyrie et Associes (audiovisual audiovisual consultant); John Morgan studio / Locomotion (gráficos graphics)
Fotos Photos
Simon Menges