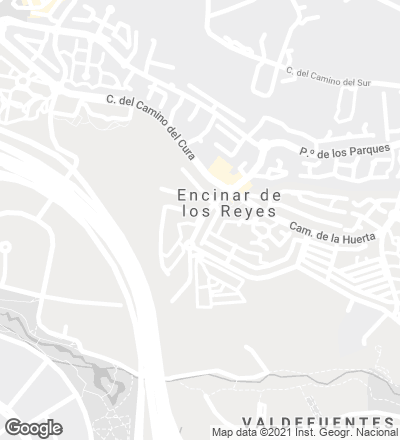 Resembling the growth rings of a tree, Madrid's circular roads register the way the capital has expanded in the past decades, and with this, the evolution of residential architecture. If the M-30 highway was where the first municipal administrations of the new democracy chose to implement their housing policies, the M-40 tries to sew the more recent initiatives together. Along the youngest belt, already ten kilometers from the north center, five three-story blocks contemplate the silhouette of the city as something remote. They are positioned transversally with respect to the road, like the huge billboards that characterize a speedy thoroughfare, with a terse facade confronting the noise and the traffic and a more open, fragmented elevation to the southern light and landscape.
Set up like gigantic billboards along the highway, the five blocks are defined by a tight plane that clusters the service zones and a fragmented facade of terraces that extends the living and bed rooms.
The blocks have a decidedly horizontal configuration, and offer a total of 76 apartments in sizes and layouts that differ with each level. The street-level units are accessible directly from the garage, and have a service zone in the lower-ground floor that opens on to an English courtyard. The three-bedroom flats take up the first floor, and some duplex units crown the building by forming attics. As a common denominator, all the dwellings have a sort of spinal column to the north – formed by the kitchens, the clothesline terrace and the toilets –that protects the main living spaces from the cold northern winds and the din of the highway, and a southern front fragmented into garden terraces that, through concrete parapets, acquire the character of outdoor spaces. The trees outside and the sinuous contours of the hills beyond thus enter the domestic realm, blending with the architecture in a single gesture.
Prefabricated concrete slabs and teakwood slats define the buildings using a 5.6-meter unit that orders the entire ensemble.
Together the materials and the construction insist on this play of obverse and reverse; the smooth hard face of the services is closed with prefabricated white concrete panels, which are modularized in such a way that plain wooden frames are inscribed at regular intervals. The surface relief that marks these panels reproduces the width of the teakwood boards that cover the building's 'soft' parts, such as the latticework of the attic or the horizontal bands – perforated by large windows – that dominate the terrace side. A rigid 5.6-meter module makes it possible to build economically, using a minimal number of pieces, yet in a way that reacts to the contradictory conditions of the surroundings: the head and tail of a landscaped parcel beside the highway.
Cliente Client
Sky Line, Gestión Equipo 10, Cryllon
Arquitectos Architects
María José Aranguren, José González Gallegos, Enrique Herrada, Marta Maíz
Colaboradores Collaborators
S. Casal, V. Díez, A. Esteban, J. González, I. Gonzalo, M. Lassan, J. Oliva, R. Palacios, J. L. Sánchez; José Neira (aparejador quantity surveyor); Gonzalo Feltrer (instalaciones mechanical engineering); Jesús Chomon(estructura structure)
Contratista Contractor
Adra
Fotos Photos
Eduardo Sánchez & Ángel Luis Baltanás