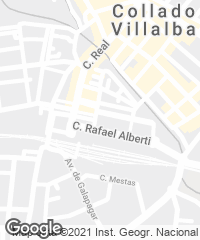 In the undifferenciated context of a recently urbanized zone, almost directly in front of the locality's new railway station, this parish center is conscious of its role as an urban landmark. Unable to compete in mass with the six-story apartment blocks that surround it, the building opts for an austere language and an expressive volumetry that speak of its spiritual mission in the neighborhood.
The belfry and choir are integrated into one giant screen which shapes the surrounding urban environment, concealing the main nave and priests' quarters located behind in a succession of prisms in decreasing order.
The scant dimensions of the parcel encouraged a decidedly compact solution in which three successively stepped volumes explicitly state the uses they contain. Toward the town square, the choir and the belfry are accommodated in a single prism that takes on the proportions of a screen shaping the urban space. The slightly lower cube next to it contains the two actual worship spaces: the main nave and an annex chapel. Finally the priests' quarters are grouped in the parallelepiped that forms the north elevation. A courtyard between this and the church ensures them privacy. Against the hierarchized directionality of traditional temples, the nave has an directionless square floor plan. The resulting cubic proportions address the collective, community character of new liturgical approaches. Separated from the main space by sliding panels of translucent glass, the clearly focused chapel to the west can be used for small masses, or be added to the principal nave to extend the space during large celebrations.
A lateral skylight in the eastern elevation puts certain emphasis on the baptismal font.
A monumental envelope of blind surfaces contributes to the introspective atmosphere required for worship, and emphasizes the character of an icon that the center endeavors to assume. Light is introduced into this opaque container as an identifier of the different functions. Small incisions create sparkles in the penumbra of the choir, without contradicting the two-dimensionality of the main facade. Screens set parallel to the altar illuminate the church homogeneously, true to the idea of an unhierarchized holy place, though a lateral skylight puts a certain emphasis on the baptismal font, and a linear one expresses the longitudinal tension of the chapel annex. The many openings of the north facade reveal the domestic program of that part of the complex: the residences of the priests, which are laid out around three staircases. Such spatial variety finds its instrument of expression in concrete: exposed on the facades, inner walls and beams, and polished in the continuous surface of the floor.
Cliente Client
Arzobispado de Madrid
Arquitectos Architects
Ignacio Vicens, José Antonio Ramos, Mª de los Ángeles Hernández
Colaboradores Collaborators
Fernando Gil, Adam Bresnick, Agustín Toledano, Jesús Gómez; Alberto Arribas (aparejador quantity surveyor)
Contratista Contractor
Lain
Fotos Photos
Eugeni Pons