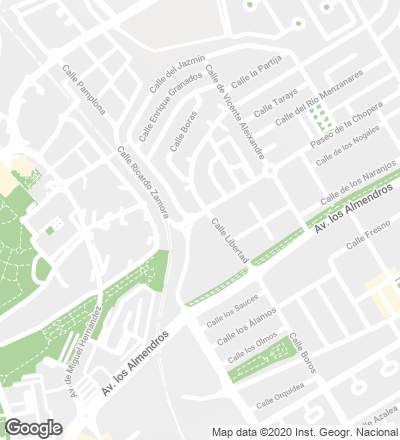 The new parish center of Santa Mónica, in the Madrid town of Rivas-Vaciamadrid – 15 kilometers south of the capital –, is located on a plot of complex features, long and narrow, adjacent to a future shopping center, on a piece of land that the town council ceded to the diocese. The new building materializes the third of the proposals presented. The first one, better adapted to the liturgical norms of the Second Vatican?Council, drew inspiration from Bernini's plan for the Roman temple of Sant'Andrea al Quirinale, where the floor plan is an elliptical form with the transverse axis longer than the main one. In this way, the entry is through the short axis, on which the pulpit and altar were placed, concentrating the hierarchical density and placing parishioners on either side, along the main axis, the purpose being to offer a mass celebration in which participation follows centered, and not directional, schemes. With this layout the altar remains at the center, and parishioners have good views of the service and of one another. An elongated space was in this way transformed into a centralized one.
The diocese, however, wanted the building to be clearly directional and to make the most of the buildable area. This prompted a second design, in concrete, dismissed due to budgetary restrictions. The third proposal, in core-ten steel, finally did get the green light. To make the most of the buildable area, the program unfolds in a continuous building that connects the priests' dwellings and parish center with the temple. The skylights that 'explode' on one of the building's facades mark the position of the presbytery.
A single volume organizes the program – housing for priests, parish center and temple –, with a directional scheme. On one end, the skylights project outwardly creating a light-filled altarpiece in the temple's interior. 
The construction of the building is simple: metal structure, core-ten steel cladding and plasterboard sheets.?It was all possible, in view of the reduced budget, thanks to the collaboration of the priests (the current one is very interested in architecture) and of the parishioners. A series of artists also collaborated in the project. José Manuel?Ciria has painted the mural wall occupying the Holy chapel and which depicts the Creation; Javier Viver, a young artist specialized in video art, the images of the Virgin and of Saint Monica. The crucifix is by José Luis Sánchez, and the Via Crucis is a work of José Antonio?Ramos: fourteen steel crosses, all of them different, treated with painted gauze. The Christ of the sacristy is a work of Javier Martínez, a young sculptor. Finally, the main altar, the pulpit and the baptismal font were painted by Fernando?Pagola.
Cliente Client
Obispado de Alcalá de Henares
Arquitectos Architects
Ignacio Vicens, José Antonio Ramos
Colaboradores Collaborators
Fernando Gil Castillo, Agustín Toledano, Roberto Rodríguez-Paraja, Jesús Gómez, Desirée González, Pablo Gutiérrez, Romina Barbieri, Tibor Martín, Raúl Rodríguez, Patricia de Elena
Consultores Consultants
Andrés Rubio (estructura structure), 3i (instalaciones mechanical engineering)
Fotos Photos
Roland Halbe