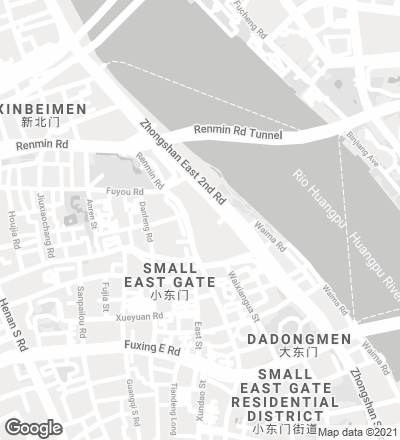 Designed by Heatherwick Studio together with Foster + Partners, the new finance center takes up the last plot available in the Bund of Shanghai, on the shores of Huangpu River, in a strategic site located between the colonial buildings by the waterfront, the historic center, and the business district. The 420.000 square meter development combines offices, a hotel, a cultural center, retail spaces, and the city plan's requirement for twin towers all organized around a landscaped public plaza. The two taller volumes – twin towers rising 180 meters – are placed at the end of one of main urban axes, to the south of the complex, while the rest of the buildings are lined up along the waterfront and adapt their height to that of the 19th-century buildings in the old town neighborhood.
Organized like extruded volumes, the finished scheme consists of rustic hand-carved stone building frames – contrasting with the latest office facade technology. Intricate detailing at the base of the buildings pares back as they rise, giving a sense of lightness towards the top, with bronze detailed in-fill panels creating interest up close. The cladding materials chosen give the building a jewel-like appearance.
At the heart of the project is the public plaza and Fosun Foundation cultural center, which is designed to host theater, art exhibitions, and fashion shows. Elevated and cantilevered on two pillars, the center recalls the tradition of raised, open Chinese theaters where actors performed to those inside as well as those standing outside. The kinetic facade creates a link between the inside and out and is composed of 675 individual metal 'tassels' arranged on three tracks. When the tracks rotate around the perimeter, the tassels overlap to produce different levels of opacity and varied apertures.
Each tassel is formed by a tube of extruded aluminum, clad with colored stainless steel sleeves, and covered with a layer of titanium nitride that gives a reddish tone. To achieve a texture evocative of the patterns of Chinese weaving, ropes, and knots, the studio worked with local craftsmen and tested a wide variety of prototypes to develop the embossed textures for the sleeves. The textures vary in scale and become more diffuse as the tubes rise, reducing the sense of weight. All this turns the building into a spectacle in itself, both for its material qualities and its dynamic possibilities. 
Obra Work
Bund Finance Centre
Cliente Client
Bund Finance Centre (Fosun)
Arquitectos Architects
Heatherwick Studio; Thomas Heatherwick (dirección de diseño design director); Dani Rossello Diez, Lisa Finlay (dirección de grupo group leader); Gergely Kovacs, Tom Yu (dirección de proyecto project leader); Simona Auteri, Tal Baron, Stefania Batoeva, Einar Blixhavn, Mark Burrows, Tyler Brown, Sarah Borowiecka, Andrew Chard, Jennifer Chen, Leo Cheung, Yaojen Chuang, Daniel Coley, Rosie Connors, Leila Davis, Katerina Dionysopoulou, Pinar Djemil, Laurence Dudeney, Dominic Vadra-Edwards, Antoine van Erp, Rickin Fok, Jakob Gate, Sarah Gill, Tamsin Green, Phillip Hall-Patch, Hayley Henry, Ben Holmes, Ingrid Hu, Neil Hubbard, William Hunter, Sara Jaafar, Jonathan Jones, Peter King, Michael Kloihofer, Alexander Laing, Changyeob Lee, Jeroen Linnebank, Virginia Lopez Frechilla, Jakob Lund, José Marquez, Andrew McMullan, Craig Miller, Mira Naran, Francis Ng, Giovanni Parodi, Hannah Parker, Clara Pierantozzi, Luke Plumbley, Brando Posocco, Eliot Postma, Jeff Powers, Enrique Pujana, Thomas Randall-Page, Emmanouil Rentopoulos, Ville Saarikoski, Ole Smith, Luke Snow, Sophia Tang, Andrew Taylor, Paul Westwood, Miguel Woodhead, Robert Wilson, Charles Wu, Chris Yoo, Kelin Yu, Chen Zhan (equipo team)
Colaboradores Collaborators
ECADI, Foster + Partners, Jangho Group Co. Ltd, Sanxin Façade Engineering Co. Ltd, Shanghai Building Decoration Engineering Group Co. Ltd, Shanghai Construction No 2 and No 7 (Group) Co. Ltd, Shanghai Gardens (Group) Co. Ltd, Shanghai Gardens Engineering Co. Ltd, Shanghai New Century Industrial Equipment Ltd, Wah Heng Glass & Aluminium Products (Shanghai) Ltd, Wuhan Lingyun Building Decoration Engineering Co. Ltd, Zhejiang Yasha Curtain Wall Co. Ltd
Fotos Photos
Laurian Ghinitoiu