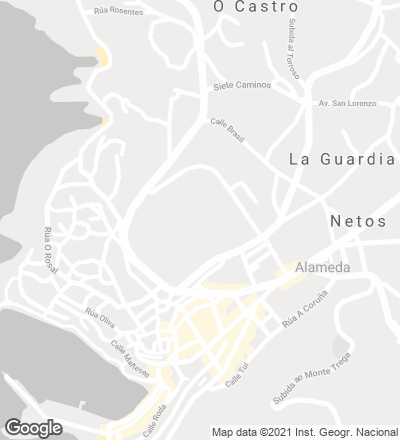 The castle of Santa Cruz is a modest building which is part of a series of small forts, watchtowers, and fachos that were erected in the 17th and 18th centuries along the banks of the river Miño as border strongholds. Santa Cruz does not stand out in size, but on account of its being the last link of a defense chain, rising 73 meters above sea level in the exceptional topograhpy of A Guarda. And thus its election as a visitor center for the transborder bulwarks of the Galicia region's Baixo Miño county.
The project involved two operations: on the one hand the renovation of the old bastion of large solid stone walls, where facilities for dissemination and exhibition have been inserted; on the other hand the construction of three small buildings, arranged like military pavilions, to house the reception area, a bar-terrace, and washrooms. Each part of the building has a material quality of its own, associated with its historical moment: while the fortress is defined by the powerful image of its bonds of quarry granite and its self-supporting panel partitions, the three pavilions, adopting a more contemporary look, were executed with dry construction methods and are equipped with a ventilated facade featuring an outer layer of stainless steel. A roof with a standing seam of zinc serves as a unifier for the complex...[+]
Obra Work
Centro de Interpretación de las Fortalezas Transfronterizas Baixo Miño en el Castillo de Santa Cruz Castle of Santa Cruz Visitor Center, A Guarda (Pontevedra).
Arquitectos Architects
Rodríguez + Pintos arquitectos.
Consultores Consultants
Miguel Barriga, Antonio Carballo (seguridad y salud safety coordinator); Reboreda Ingeniería / Cristina Crespo (estructuras structures); Antiga / Ana Filgueiras (arqueología archaeology).
Fotos Photos
Santos Díez.